Colliers Aéronautique Adel Wiggins
Avril 2021 Colliers Aeronautique. nouvelles brochures ici en téléchargement :
Products stock of Pipe Clamp, they are Cushion Covered P Clamp suitable for fixing hose clamp with rubber lined in Aerospace, Defence and Space, formula 1 and e-formula are users also. all these technical fasteners are based on American and European manufacturer standards.
Aerospace Clamp with various common shape like « P Clamp » Q CLAMPS and SADDLE CLAMPS: Cushioned & Multitube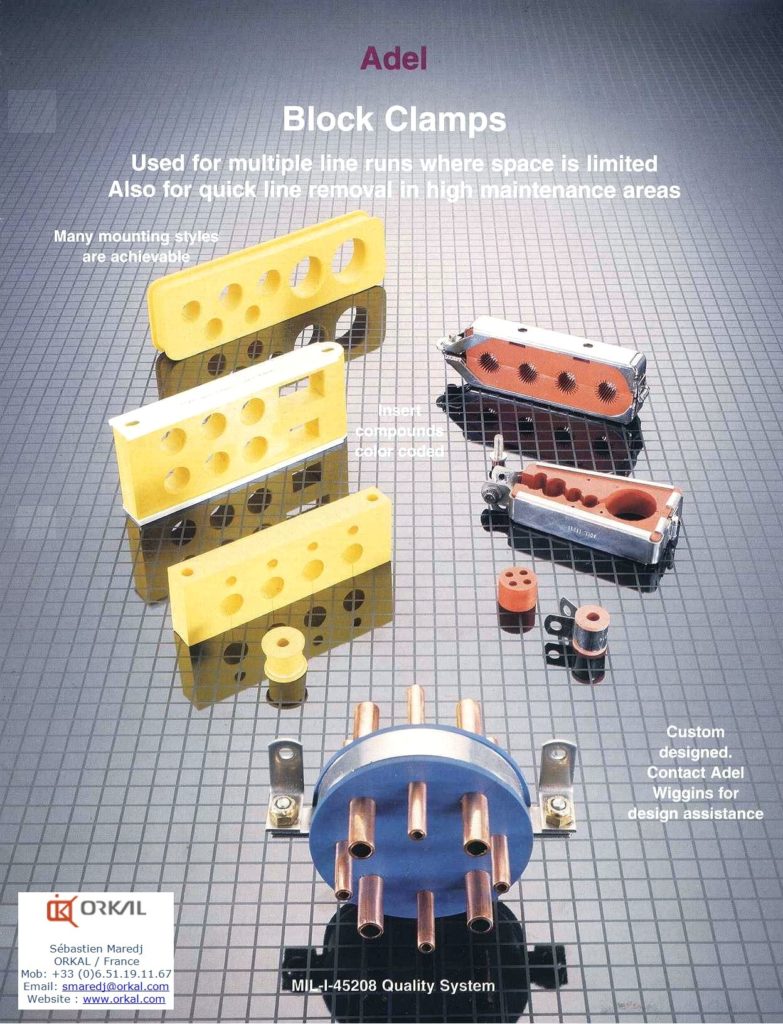 Block clamps for Aerospace in wingbox, aerostructure, they can be Quarter turn Clamp, quick release with all possible design as illustrated above
from Cryogenic to high temperature : Neoprene Silicone Fluorosilicone Nitrile Ethylene Propylene Silicone PTFE(Teflon) Fabric, Polybenzimidazole (PBI) Fiberglass Sleeving Wire Mesh . (alternative available from -195°C to +649°C)
Telecharger ici le PDF, un extrait de la gamme standard, pour le catalogue complet, contactez nous.
METAL CLIPS: a complete qualified range from the history Adel design know worldwide
La Gamme Orkal Adel Wiggins comprend le design et la fabrication de tous les « Colliers P », « Colliers Q » , « Colliers OMEGA »
COLLIERS militaire pour application datacenter, Landing Gear, Space qualified clamps
Nos Colliers aéronautiques sont utilisés dans les avions de ligne, les Business jets, les avions militaires de transport et de chasse, les hélicoptèristes et bien sur les turbines, APUmoteurs, la Nasa et l'ESA pour des solutions avec une tenue au vide sans dégazage.
The One-Handed Clamp
Labor Cost Savings Increase Throughput Eliminate FOD Reusable
ORKAL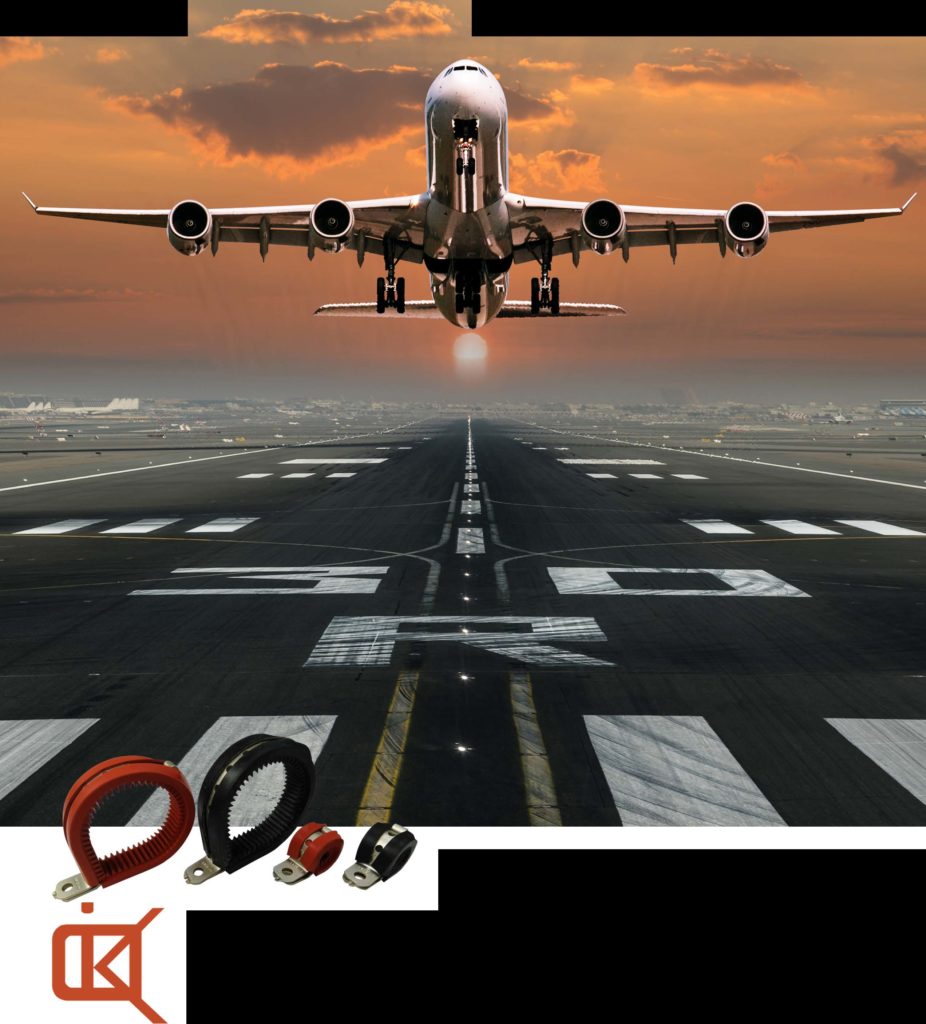 AdelWiggins Universal Clamp series is the most ergonomically engineered clamp available on the market today. The Universal Clamp offers ease of installation through easy to close and locking features. The design facillitates stacking or « butterflying » significantly reduces repetive motion and carpal tunnel injuries, as well as provides significant through-put gains on the assembly line. The clamp has been in service on multiple platforms since l 990 with great success.
Outperforms the AS/MS21919 for all sizes
Under shock and random vibration test per RTCNDO-l 60D
Under resonance dwell test per SAE ASl 97 4 standard
Meets or exceeds the qualification requirements of AS21919 /MS21919 specification 2019-01-16 CLAMP, LOOP TYPE, CUSHIONED SUPPORT AS21919B
(PN 60000) Wiring Applications
(PN 60020) Wiring and Tube Applications

One handed install, side locking or top locking
Stackable
Eliminates potential FOD introduction
Decreases installation time cost saving in Labour
Multiple types of cushions and sizes available

Available in Neoprene, Nitrile, Fluorosilicone and higher temperature materials

Aluminum and Cres band options
•Customer Pedigree
Sikorsky 0 General Atomics 0 Lockheed Martin ° Collins Aerospace 0 Embraer
0 Joby Aviation
0 Leonardo Aircraft
0 Leonardo Helicopter
0 Boeing Helicopter
0 SpaceX
Nous répondons sous 48 heures à toutes demandes de devis.*
*Nous répondons généralement sous 24 heures quand la demande de prix est clarifiée, le périmètre de fourniture défini, les plans approuvés et les incoterms et CGV validés. Un des éléments précédents peut allonger le délai de réponse. Aussi nous mettons tout en œuvre afin de fonctionner rapidement pour votre projet.