Colliers Aéronautique Adel Wiggins
Colliers Aeronautique.
Products stock of Pipe Clamp, they are Cushion Covered P Clamp suitable for fixing hose clamp with rubber lined in Aerospace, Defence and Space, formula 1 and e-formula are users also. all these technical fasteners are based on American and European manufacturer standards.
Aerospace Clamp with various common shape like « P Clamp » Q CLAMPS and SADDLE CLAMPS: Cushioned & Multitube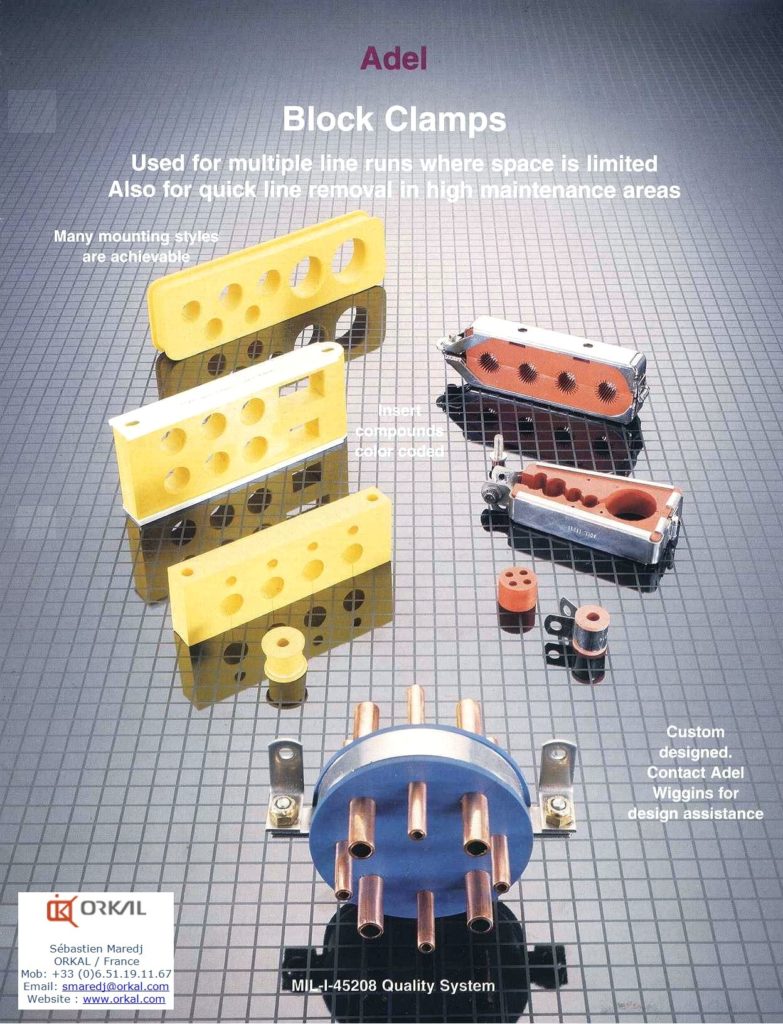 Block clamps for Aerospace in wingbox, aerostructure, they can be Quarter turn Clamp, quick release with all possible design as illustrated above
from Cryogenic to high temperature : Neoprene Silicone Fluorosilicone Nitrile Ethylene Propylene Silicone PTFE(Teflon) Fabric, Polybenzimidazole (PBI) Fiberglass Sleeving Wire Mesh . (alternative available from -195°C to +649°C)
Telecharger ici le PDF, un extrait de la gamme standard, pour le catalogue complet, contactez nous.
METAL CLIPS: a complete qualified range from the history Adel design know worldwide
La Gamme Orkal Adel Wiggins comprend le design et la fabrication de tous les « Colliers P », « Colliers Q » , « Colliers OMEGA »
COLLIERS militaire pour application datacenter, Landing Gear, Space qualified clamps
Nos Colliers aéronautiques sont utilisés dans les avions de ligne, les Business jets, les avions militaires de transport et de chasse, les hélicoptèristes et bien sur les turbines, APUmoteurs, la Nasa et l'ESA pour des solutions avec une tenue au vide sans dégazage.