Updated : November 2021 => Focus on PREECE INCORPORATED Lake Forest, California : Effective June 2, 2017, Preece incorporated was acquired by AdelWiggins Group, a division of Transdigm Inc. Preece has moved all of its operations from 26845 Vista Terrace Lake Forest, CA 92630 to AdelWiggins Group, which is located at 5000 Triggs St. Commerce, CA 90022.
Page mise à jour : 30 Juin 2022
self-sealing quick disconnect (QD) couplings
Thread-to-connect style quick disconnect coupling
Aerospace Hydraulic Quick Release Couplings. AIRCRAFT QUICK DISCONNECT COUPLINGS. (Hydraulic Test Stands / Rigs). Hydraulic Quick Release Coupling Aerospace
Reliable, leak-free hydraulic quick couplings for aerospace ground service
safe, quick connection of fluids, gases, coolant, hydraulic and power supplies
AS33514E10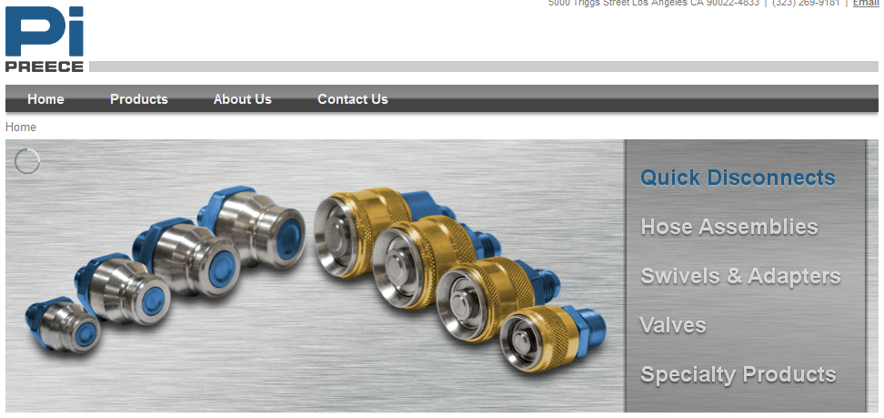 Orkal provides exclusive sales representation, stocking and logistics services for Preece AdelWiggins Group products. This combination of product technical expertise, stocking and logistics expertise provides the ultimate supply chain benefits for the Customer and Manufacturer. Orkal has been providing technical sales, stocking and logistic support for over 20 years for AdelWiggins Group. We have the closest link to the factory from every standpoint, including quality, sales, engineering and product support. No-one is better qualified than Orkal to provide marketing, technical services , stocking and logistics support.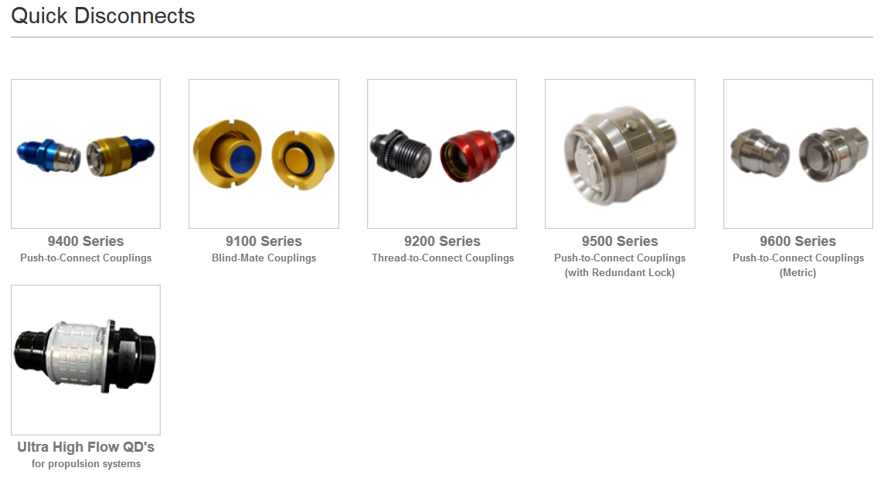 Preece Incorporated NSN Parts Catalog
Part No
NSN
Item Name
CAGE Code
2012
4720-00-438-5279
Preece Incorporated AdelWiggins Group, a division of Transdigm Inc
Hose assembly Non-metallic
21392
2012
4720-00-438-5261
Preece Incorporated AdelWiggins Group, a division of Transdigm Inc
Hose assembly Non-metallic
21392
2012
4720-01-074-7915
Preece Incorporated AdelWiggins Group, a division of Transdigm Inc
Hose assembly Non-metallic
21392
2012
4720-01-116-5971
Preece Incorporated AdelWiggins Group, a division of Transdigm Inc
Hose assembly Non-metallic
21392
2012
4720-01-243-1400
Preece Incorporated AdelWiggins Group, a division of Transdigm Inc
Hose assembly Non-metallic
21392
2012
4720-01-243-1401
Preece Incorporated AdelWiggins Group, a division of Transdigm Inc
Hose assembly Non-metallic
21392
3002
4710-00-241-0956
Preece Incorporated AdelWiggins Group, a division of Transdigm Inc
tube assembly metal
21392
3062
4710-00-470-8571
Preece Incorporated AdelWiggins Group, a division of Transdigm Inc
tube assembly metal
21392
3271
4720-00-123-0570
Preece Incorporated AdelWiggins Group, a division of Transdigm Inc
Hose assembly Non-metallic
21392
4863
4730-01-646-0528
Preece Incorporated AdelWiggins Group, a division of Transdigm Inc
elbow tube
21392
5168
4730-01-273-1318
Preece Incorporated AdelWiggins Group, a division of Transdigm Inc
coupling half quick disconnect
21392
5178
4730-01-438-8778
Preece Incorporated AdelWiggins Group, a division of Transdigm Inc
coupling half quick disconnect
21392
5249
5340-01-297-1839
Preece Incorporated AdelWiggins Group, a division of Transdigm Inc
cap protective dust and moisture
21392
5340
4720-01-462-8618
Preece Incorporated AdelWiggins Group, a division of Transdigm Inc
Hose assembly Non-metallic
21392
5409
4720-01-122-7731
Preece Incorporated AdelWiggins Group, a division of Transdigm Inc
Hose assembly metallic
21392
6021
4720-01-037-1707
Preece Incorporated AdelWiggins Group, a division of Transdigm Inc
Hose assembly metallic
21392
6075
4720-01-074-7915
Preece Incorporated AdelWiggins Group, a division of Transdigm Inc
Hose assembly Non-metallic
21392
6077
4720-01-182-4423
Preece Incorporated AdelWiggins Group, a division of Transdigm Inc
Hose assembly Non-metallic
21392
6080
4720-00-868-5828
Preece Incorporated AdelWiggins Group, a division of Transdigm Inc
Hose assembly Non-metallic
21392
6373
4720-01-428-6944
Preece Incorporated AdelWiggins Group, a division of Transdigm Inc
Hose assembly Non-metallic
21392
6373
4720-01-411-7593
Preece Incorporated AdelWiggins Group, a division of Transdigm Inc
Hose assembly Non-metallic
21392
6373
4720-01-445-3213
Preece Incorporated AdelWiggins Group, a division of Transdigm Inc
Hose assembly Non-metallic
21392
6373
4720-01-445-2308
Preece Incorporated AdelWiggins Group, a division of Transdigm Inc
Hose assembly Non-metallic
21392
6373
4720-01-445-2297
Preece Incorporated AdelWiggins Group, a division of Transdigm Inc
Hose assembly Non-metallic
21392
6373
4720-01-428-6945
Preece Incorporated AdelWiggins Group, a division of Transdigm Inc
Hose assembly Non-metallic
21392
6373
4720-01-443-7707
Preece Incorporated AdelWiggins Group, a division of Transdigm Inc
Hose assembly Non-metallic
21392
6373
4720-01-428-6946
Preece Incorporated AdelWiggins Group, a division of Transdigm Inc
Hose assembly Non-metallic
21392
6373
4720-01-445-2223
Preece Incorporated AdelWiggins Group, a division of Transdigm Inc
Hose assembly Non-metallic
21392
6373
4720-01-445-3221
Preece Incorporated AdelWiggins Group, a division of Transdigm Inc
Hose assembly Non-metallic
21392
6373
4720-01-460-3052
Preece Incorporated AdelWiggins Group, a division of Transdigm Inc
Hose assembly Non-metallic
21392
6373
4720-01-443-7106
Preece Incorporated AdelWiggins Group, a division of Transdigm Inc
Hose assembly Non-metallic
21392
6373
4720-01-443-7652
Preece Incorporated AdelWiggins Group, a division of Transdigm Inc
Hose assembly Non-metallic
21392
6373
4720-01-449-5015
Preece Incorporated AdelWiggins Group, a division of Transdigm Inc
Hose assembly Non-metallic
21392
6373
4720-01-443-7615
Preece Incorporated AdelWiggins Group, a division of Transdigm Inc
Hose assembly Non-metallic
21392
6373
4720-01-445-3234
Preece Incorporated AdelWiggins Group, a division of Transdigm Inc
Hose assembly Non-metallic
21392
6543
4720-01-319-2747
Preece Incorporated AdelWiggins Group, a division of Transdigm Inc
Hose assembly Non-metallic
21392
6543
4720-01-318-9698
Preece Incorporated AdelWiggins Group, a division of Transdigm Inc
Hose assembly Non-metallic
21392
6543
4720-01-319-2748
Preece Incorporated AdelWiggins Group, a division of Transdigm Inc
Hose assembly Non-metallic
21392
6543
4720-01-318-9697
Preece Incorporated AdelWiggins Group, a division of Transdigm Inc
Hose assembly Non-metallic
21392
6543
4720-01-319-2749
Preece Incorporated AdelWiggins Group, a division of Transdigm Inc
Hose assembly Non-metallic
21392
6543
4720-01-322-9141
Preece Incorporated AdelWiggins Group, a division of Transdigm Inc
Hose assembly Non-metallic
21392
6543
4720-01-319-2750
Preece Incorporated AdelWiggins Group, a division of Transdigm Inc
Hose assembly Non-metallic
21392
6595
4720-01-481-2086
Preece Incorporated AdelWiggins Group, a division of Transdigm Inc
Hose assembly Non-metallic
21392
6595
4720-01-346-4692
Preece Incorporated AdelWiggins Group, a division of Transdigm Inc
Hose assembly Non-metallic
21392
6595
4720-01-481-2092
Preece Incorporated AdelWiggins Group, a division of Transdigm Inc
Hose assembly Non-metallic
21392
6595
4720-01-481-2132
Preece Incorporated AdelWiggins Group, a division of Transdigm Inc
Hose assembly Non-metallic
21392
6614
4720-01-248-5160
Preece Incorporated AdelWiggins Group, a division of Transdigm Inc
Hose assembly Non-metallic
21392
6628
4720-01-312-2529
Preece Incorporated AdelWiggins Group, a division of Transdigm Inc
Hose assembly Non-metallic
21392
6629
4720-01-319-2751
Preece Incorporated AdelWiggins Group, a division of Transdigm Inc
Hose assembly Non-metallic
21392
6674
4720-01-318-1195
Preece Incorporated AdelWiggins Group, a division of Transdigm Inc
Hose assembly Non-metallic
21392
6677
4720-01-435-6036
Preece Incorporated AdelWiggins Group, a division of Transdigm Inc
Hose assembly Non-metallic
21392
6680
4720-01-330-2446
Preece Incorporated AdelWiggins Group, a division of Transdigm Inc
Hose assembly metallic
21392
6737
4720-01-418-8965
Preece Incorporated AdelWiggins Group, a division of Transdigm Inc
Hose Non-metallic
21392
6751
4720-01-434-5494
Preece Incorporated AdelWiggins Group, a division of Transdigm Inc
Hose assembly Non-metallic
21392
6752
4720-01-420-1112
Preece Incorporated AdelWiggins Group, a division of Transdigm Inc
Hose assembly Non-metallic
21392
6753
4720-01-420-1113
Preece Incorporated AdelWiggins Group, a division of Transdigm Inc
Hose assembly Non-metallic
21392
6754
4720-01-419-6474
Preece Incorporated AdelWiggins Group, a division of Transdigm Inc
Hose assembly Non-metallic
21392
6755
4720-01-420-1114
Preece Incorporated AdelWiggins Group, a division of Transdigm Inc
Hose assembly Non-metallic
21392
6756
4720-01-420-1115
Preece Incorporated AdelWiggins Group, a division of Transdigm Inc
Hose assembly Non-metallic
21392
6756
4720-01-420-1111
Preece Incorporated AdelWiggins Group, a division of Transdigm Inc
Hose assembly Non-metallic
21392
6835
4720-01-088-9386
Preece Incorporated AdelWiggins Group, a division of Transdigm Inc
Hose assembly Non-metallic
21392
6865
4720-01-434-4034
Preece Incorporated AdelWiggins Group, a division of Transdigm Inc
Hose assembly Non-metallic
21392
6865
4720-01-435-6152
Preece Incorporated AdelWiggins Group, a division of Transdigm Inc
Hose assembly Non-metallic
21392
6865
4720-01-434-4115
Preece Incorporated AdelWiggins Group, a division of Transdigm Inc
Hose assembly Non-metallic
21392
6877
4720-01-388-1034
Preece Incorporated AdelWiggins Group, a division of Transdigm Inc
Hose assembly Non-metallic
21392
6940
4720-01-425-3719
Preece Incorporated AdelWiggins Group, a division of Transdigm Inc
Hose assembly Non-metallic
21392
6943
4720-01-420-1034
Preece Incorporated AdelWiggins Group, a division of Transdigm Inc
Hose assembly Non-metallic
21392
6991
4720-01-450-1764
Preece Incorporated AdelWiggins Group, a division of Transdigm Inc
Hose assembly Non-metallic
21392
7333
1680-01-504-6810
Preece Incorporated AdelWiggins Group, a division of Transdigm Inc
Hose swl to swl air
21392
9400
4730-01-462-6543
Preece Incorporated AdelWiggins Group, a division of Transdigm Inc
coupling half quick disconnect
21392
10082
3040-01-121-4728
Preece Incorporated AdelWiggins Group, a division of Transdigm Inc
shaft
50276
10083
4730-01-121-4729
Preece Incorporated AdelWiggins Group, a division of Transdigm Inc
plate
50276
10123
4730-01-121-4730
Preece Incorporated AdelWiggins Group, a division of Transdigm Inc
body
50276
51124
4730-01-355-5975
Preece Incorporated AdelWiggins Group, a division of Transdigm Inc
coupling half quick disconnect
21392
51242
4730-01-471-8285
Preece Incorporated AdelWiggins Group, a division of Transdigm Inc
coupling half quick disconnect
21392
51242
4730-01-471-8286
Preece Incorporated AdelWiggins Group, a division of Transdigm Inc
coupling half quick disconnect
21392
51461
4730-01-651-1119
Preece Incorporated AdelWiggins Group, a division of Transdigm Inc
coupling half quick disconnect
21392
52458
4730-01-650-7589
Preece Incorporated AdelWiggins Group, a division of Transdigm Inc
cap quick disconnect
21392
61001
5999-01-250-6980
Preece Incorporated AdelWiggins Group, a division of Transdigm Inc
shaped Hose assy
21392
101000
4720-01-434-5493
Preece Incorporated AdelWiggins Group, a division of Transdigm Inc
Hose assembly Non-metallic
21392
512114
4730-01-049-7850
Preece Incorporated AdelWiggins Group, a division of Transdigm Inc
reducer boss
21392
8197627
4730-01-631-8600
Preece Incorporated AdelWiggins Group, a division of Transdigm Inc
coupling Hose
21392
12466690
5306-01-459-1354
Preece Incorporated AdelWiggins Group, a division of Transdigm Inc
bolt machine
21392
65050230
4720-01-205-0508
Preece Incorporated AdelWiggins Group, a division of Transdigm Inc
Hose assembly Non-metallic
21392
211058266
4720-01-451-8190
Preece Incorporated AdelWiggins Group, a division of Transdigm Inc
Hose assembly Non-metallic
21392
211058907
4720-01-451-8147
Preece Incorporated AdelWiggins Group, a division of Transdigm Inc
Hose assembly Non-metallic
21392
211068267
4720-01-451-8238
Preece Incorporated AdelWiggins Group, a division of Transdigm Inc
Hose assembly Non-metallic
21392
10080-100
4730-00-195-2251
Preece Incorporated AdelWiggins Group, a division of Transdigm Inc
swivel joint hydraulic
21392
101000-8A-0240
4720-01-434-5493
Preece Incorporated AdelWiggins Group, a division of Transdigm Inc
Hose assembly Non-metallic
21392
1010016C0084
4720-01-425-9555
Preece Incorporated AdelWiggins Group, a division of Transdigm Inc
Hose assembly Non-metallic
21392
1010-8-2400
4720-00-009-7237
Preece Incorporated AdelWiggins Group, a division of Transdigm Inc
Hose assembly Non-metallic
21392
1020015D0172
4720-01-485-0185
Preece Incorporated AdelWiggins Group, a division of Transdigm Inc
Hose assembly metallic
21392
102005G0244D070
4720-01-485-0190
Preece Incorporated AdelWiggins Group, a division of Transdigm Inc
Hose assembly metallic
21392
102005G0254D250
4720-01-570-5090
Preece Incorporated AdelWiggins Group, a division of Transdigm Inc
Hose assembly metallic
21392
1030006C-0300
4720-01-483-9458
Preece Incorporated AdelWiggins Group, a division of Transdigm Inc
Hose assembly Non-metallic
21392
1083TK-12.2
4720-01-311-9324
Preece Incorporated AdelWiggins Group, a division of Transdigm Inc
Hose assembly Non-metallic
21392
12466806-2
4730-01-463-7158
Preece Incorporated AdelWiggins Group, a division of Transdigm Inc
coupling half quick
21392
125470-25
4720-00-757-9649
Preece Incorporated AdelWiggins Group, a division of Transdigm Inc
Hose assembly Non-metallic
21392
1A04L1C04F0120
4720-01-005-2387
Preece Incorporated AdelWiggins Group, a division of Transdigm Inc
Hose assembly Non-metallic
21392
1A04M1A04F0316
4720-01-375-8066
Preece Incorporated AdelWiggins Group, a division of Transdigm Inc
Hose assembly Non-metallic
21392
1A04T1A04F0540
4720-00-571-5321
Preece Incorporated AdelWiggins Group, a division of Transdigm Inc
Hose assembly Non-metallic
21392
1A04T1A04F-0720
4720-00-092-3862
Preece Incorporated AdelWiggins Group, a division of Transdigm Inc
Hose assembly Non-metallic
21392
1A04T1A04F0790
4720-00-438-5261
Preece Incorporated AdelWiggins Group, a division of Transdigm Inc
Hose assembly Non-metallic
21392
1A04T1A04F1080
4720-00-438-5279
Preece Incorporated AdelWiggins Group, a division of Transdigm Inc
Hose assembly Non-metallic
21392
1A04T1D04F
4720-01-116-5971
Preece Incorporated AdelWiggins Group, a division of Transdigm Inc
Hose assembly Non-metallic
21392
1A04T1D04F
4720-01-116-6744
Preece Incorporated AdelWiggins Group, a division of Transdigm Inc
Hose assembly Non-metallic
21392
1A04T1D04F-0096
4720-00-796-7740
Preece Incorporated AdelWiggins Group, a division of Transdigm Inc
Hose assembly Non-metallic
21392
1A04T1D04F0110R
4720-00-247-8924
Preece Incorporated AdelWiggins Group, a division of Transdigm Inc
Hose assembly Non-metallic
21392
1A04T1D04F-0413
4720-00-796-7714
Preece Incorporated AdelWiggins Group, a division of Transdigm Inc
Hose assembly Non-metallic
21392
1A04T1D04F0660
4720-01-116-5971
Preece Incorporated AdelWiggins Group, a division of Transdigm Inc
Hose assembly Non-metallic
21392
1A04T1D04F1260
4720-01-116-6744
Preece Incorporated AdelWiggins Group, a division of Transdigm Inc
Hose assembly Non-metallic
21392
1A04TCA04F-0180
4720-01-344-3951
Preece Incorporated AdelWiggins Group, a division of Transdigm Inc
Hose assembly Non-metallic
21392
1A04TKA04F0360
4720-00-868-5828
Preece Incorporated AdelWiggins Group, a division of Transdigm Inc
Hose assembly Non-metallic
21392
1A06T1A06-6-0075
4720-00-057-5716
Preece Incorporated AdelWiggins Group, a division of Transdigm Inc
Hose assembly Non-metallic
21392
1A06T1D06H-0182
4720-00-796-7802
Preece Incorporated AdelWiggins Group, a division of Transdigm Inc
HoseassemblyNon-metallic
21392
1A06T1D06H-0275
4720-00-796-7775
Preece Incorporated AdelWiggins Group, a division of Transdigm Inc
Hose assembly Non-metallic
21392
1A06V1A06H-0180
4720-01-061-3761
Preece Incorporated AdelWiggins Group, a division of Transdigm Inc
tubing assembly Non-metallic
21392
1A08PRA08J-0110
4720-01-243-1400
Preece Incorporated AdelWiggins Group, a division of Transdigm Inc
Hose assembly Non-metallic
21392
1A08PRA08J-0250
4720-01-243-1401
Preece Incorporated AdelWiggins Group, a division of Transdigm Inc
Hose assembly Non-metallic
21392
1A08T1D08J0160
4720-01-249-8403
Preece Incorporated AdelWiggins Group, a division of Transdigm Inc
Hose assembly Non-metallic
21392
1A08T1D08J-0247
4720-00-796-7820
Preece Incorporated AdelWiggins Group, a division of Transdigm Inc
HoseassemblyNon-metallic
21392
1A08T1D08J-0624
4720-00-796-7798
Preece Incorporated AdelWiggins Group, a division of Transdigm Inc
HoseassemblyNon-metallic
21392
1A08T1D08J-0866
4720-00-796-7711
Preece Incorporated AdelWiggins Group, a division of Transdigm Inc
Hose assembly Non-metallic
21392
1A08T1D08J1200R
4720-00-815-6354
Preece Incorporated AdelWiggins Group, a division of Transdigm Inc
Hose Non-metallic
21392
1A12PRA12L-0310
4720-01-182-4423
Preece Incorporated AdelWiggins Group, a division of Transdigm Inc
Hose assembly Non-metallic
21392
1A12T1A12L-0190
4720-01-074-7915
Preece Incorporated AdelWiggins Group, a division of Transdigm Inc
Hose assembly Non-metallic
21392
1A204A04-0240
4720-00-756-8373
Preece Incorporated AdelWiggins Group, a division of Transdigm Inc
Hose assembly Non-metallic
21392
1A204A04A04-0160
4720-00-756-8157
Preece Incorporated AdelWiggins Group, a division of Transdigm Inc
Hose assembly Non-metallic
21392
1A204A04A04-0240
4720-00-756-8373
Preece Incorporated AdelWiggins Group, a division of Transdigm Inc
Hose assembly Non-metallic
21392
1A204T04B04-0360
4720-01-304-6879
Preece Incorporated AdelWiggins Group, a division of Transdigm Inc
Hose assembly Non-metallic
21392
1A204T04B04-0600
4720-01-283-4984
Preece Incorporated AdelWiggins Group, a division of Transdigm Inc
Hose assembly Non-metallic
21392
1D04T1D04F-0151
4720-01-174-5894
Preece Incorporated AdelWiggins Group, a division of Transdigm Inc
Hose assembly Non-metallic
21392
1D203A04A04-0160
4720-00-756-8368
Preece Incorporated AdelWiggins Group, a division of Transdigm Inc
Hose assembly Non-metallic
21392
1E08T1E08J-0264
4720-01-162-5120
Preece Incorporated AdelWiggins Group, a division of Transdigm Inc
Hose assembly Non-metallic
21392
1EP10AA0160
4720-01-050-1337
Preece Incorporated AdelWiggins Group, a division of Transdigm Inc
Hose assembly Non-metallic
21392
1EP6AA0480
4720-01-050-1336
Preece Incorporated AdelWiggins Group, a division of Transdigm Inc
Hose assembly Non-metallic
21392
1EP6AC0190
4720-01-042-0499
Preece Incorporated AdelWiggins Group, a division of Transdigm Inc
Hose assembly Non-metallic
21392
1G24T2G32P0520
4720-01-247-3207
Preece Incorporated AdelWiggins Group, a division of Transdigm Inc
Hose assembly Non-metallic
21392
1J04P1J04F-0092
4720-01-170-2946
Preece Incorporated AdelWiggins Group, a division of Transdigm Inc
Hose assembly metallic
21392
1J04P1J04F-0134
4720-01-170-2945
Preece Incorporated AdelWiggins Group, a division of Transdigm Inc
Hose assembly metallic
21392
1J04TEJ04F-0114
4720-01-185-0955
Preece Incorporated AdelWiggins Group, a division of Transdigm Inc
Hose assembly Non-metallic
21392
1J06FXJ06H-0250
4720-01-479-7823
Preece Incorporated AdelWiggins Group, a division of Transdigm Inc
Hose assembly Non-metallic
21392
1R04S7A04F-072-0
4720-01-283-4967
Preece Incorporated AdelWiggins Group, a division of Transdigm Inc
Hose assembly metallic
21392
1R04S7A04F-1800
4720-01-330-2446
Preece Incorporated AdelWiggins Group, a division of Transdigm Inc
Hose assembly metallic
21392
200000 6C 0090
4720-01-666-5220
Preece Incorporated AdelWiggins Group, a division of Transdigm Inc
Hose assembly Non-metallic
50276
200000 6C 0150
4720-01-666-5249
Preece Incorporated AdelWiggins Group, a division of Transdigm Inc
Hose assembly Non-metallic
50276
200000 6C 0180
4720-01-666-5296
Preece Incorporated AdelWiggins Group, a division of Transdigm Inc
Hose assembly Non-metallic
50276
200000 8C 0600
4720-01-667-1370
Preece Incorporated AdelWiggins Group, a division of Transdigm Inc
Hose assembly Non-metallic
50276
2000006A0130
4720-01-544-1430
Preece Incorporated AdelWiggins Group, a division of Transdigm Inc
Hose Non-metallic
21392
200000-6C-0120
4720-01-666-5333
Preece Incorporated AdelWiggins Group, a division of Transdigm Inc
Hose assembly Non-metallic
50276
200000-6C-0160
4720-01-666-9694
Preece Incorporated AdelWiggins Group, a division of Transdigm Inc
Hose assembly Non-metallic
50276
200000-6C-0320
4720-01-666-9689
Preece Incorporated AdelWiggins Group, a division of Transdigm Inc
Hose assembly Non-metallic
50276
200000-8A0194
4720-01-464-1179
Preece Incorporated AdelWiggins Group, a division of Transdigm Inc
Hose Non-metallic
21392
2000008A0360
4720-01-544-1410
Preece Incorporated AdelWiggins Group, a division of Transdigm Inc
Hose Non-metallic
21392
200000-8C-0110
4720-01-666-5468
Preece Incorporated AdelWiggins Group, a division of Transdigm Inc
Hose assembly Non-metallic
50276
200000-8C-0160
4720-01-666-5492
Preece Incorporated AdelWiggins Group, a division of Transdigm Inc
Hose assembly Non-metallic
50276
200000-8C-0180
4720-01-666-5453
Preece Incorporated AdelWiggins Group, a division of Transdigm Inc
Hose assembly Non-metallic
50276
200000-8C-0380
4720-01-666-5429
Preece Incorporated AdelWiggins Group, a division of Transdigm Inc
Hose assembly Non-metallic
50276
200000-8C-0420
4720-01-666-5441
Preece Incorporated AdelWiggins Group, a division of Transdigm Inc
Hose assembly Non-metallic
50276
2085E05A04
4730-00-165-9653
Preece Incorporated AdelWiggins Group, a division of Transdigm Inc
adapter straight tube to Hose
21392
2085E05D04
4730-00-024-4332
Preece Incorporated AdelWiggins Group, a division of Transdigm Inc
elbow tube to Hose
21392
2085E08A06
4730-00-038-7078
Preece Incorporated AdelWiggins Group, a division of Transdigm Inc
adapter straight tube to Hose
21392
2085E10A08
4730-00-038-7080
Preece Incorporated AdelWiggins Group, a division of Transdigm Inc
adapter straight tube to Hose
21392
2157-1
4730-01-028-2256
Preece Incorporated AdelWiggins Group, a division of Transdigm Inc
connector multiple fluid pressur
21392
2157-2
4730-01-028-9250
Preece Incorporated AdelWiggins Group, a division of Transdigm Inc
coupling half quick disconnect
21392
2157-4
4730-01-060-7900
Preece Incorporated AdelWiggins Group, a division of Transdigm Inc
cap quick disconnect
21392
2157-5
4730-01-028-9252
Preece Incorporated AdelWiggins Group, a division of Transdigm Inc
coupling half quick disconnect
21392
2157-7
4730-01-140-9466
Preece Incorporated AdelWiggins Group, a division of Transdigm Inc
cap quick disconnect
21392
2175-1
4730-01-028-2256
Preece Incorporated AdelWiggins Group, a division of Transdigm Inc
connector multiple fluid pressur
21392
22-901
4730-00-709-3870
Preece Incorporated AdelWiggins Group, a division of Transdigm Inc
swiveljointhydraulic
50276
22-902
4730-01-149-9782
Preece Incorporated AdelWiggins Group, a division of Transdigm Inc
swiveljoint
50276
22-903
1650-00-222-6819
Preece Incorporated AdelWiggins Group, a division of Transdigm Inc
swivel joint hydraulic aircraft
50276
22-907
4730-00-195-2259
Preece Incorporated AdelWiggins Group, a division of Transdigm Inc
swivel joint hydraulic
50276
2429170-8
4720-00-412-9374
Preece Incorporated AdelWiggins Group, a division of Transdigm Inc
Hose assembly Non-metallic
21392
2-43121-1
1650-00-767-8842
Preece Incorporated AdelWiggins Group, a division of Transdigm Inc
piston linear actuating cylinder
21392
2-43810-1
1650-00-723-1902
Preece Incorporated AdelWiggins Group, a division of Transdigm Inc
swivel assembly hydraulic
50276
2-43810-5
1650-00-222-6819
Preece Incorporated AdelWiggins Group, a division of Transdigm Inc
swivel joint hydraulic aircraft
50276
2A08EPA06J-0240
4720-01-419-6474
Preece Incorporated AdelWiggins Group, a division of Transdigm Inc
Hose assembly Non-metallic
21392
2A08T2D08J-0700
4720-01-247-6194
Preece Incorporated AdelWiggins Group, a division of Transdigm Inc
Hose assembly Non-metallic
21392
2A12T1E12L-0440
4720-01-246-6314
Preece Incorporated AdelWiggins Group, a division of Transdigm Inc
Hose assembly Non-metallic
21392
2A12T1E12L-0580
4720-01-247-6195
Preece Incorporated AdelWiggins Group, a division of Transdigm Inc
Hose assembly Non-metallic
21392
2A12T1E12L-0700
4720-01-247-0208
Preece Incorporated AdelWiggins Group, a division of Transdigm Inc
HoseassemblyNon-metallic
21392
2B12TFA16L-0240
4720-01-434-4227
Preece Incorporated AdelWiggins Group, a division of Transdigm Inc
Hose assembly Non-metallic
21392
2B16TFA12J0360
4720-01-434-1476
Preece Incorporated AdelWiggins Group, a division of Transdigm Inc
Hose assembly Non-metallic
21392
2B20M1B20N0150
4720-01-434-3390
Preece Incorporated AdelWiggins Group, a division of Transdigm Inc
Hose assembly Non-metallic
21392
2B32M1B32R0180
4720-01-434-3392
Preece Incorporated AdelWiggins Group, a division of Transdigm Inc
Hose assembly Non-metallic
21392
2J16S1J16M0600W
4720-01-106-5382
Preece Incorporated AdelWiggins Group, a division of Transdigm Inc
Hose assembly metallic
21392
2K203D06A060360
4720-01-278-8672
Preece Incorporated AdelWiggins Group, a division of Transdigm Inc
Hose assembly Non-metallic
21392
301-24
4720-01-418-8965
Preece Incorporated AdelWiggins Group, a division of Transdigm Inc
Hose Non-metallic
21392
302001-12A-0420
4720-01-365-2530
Preece Incorporated AdelWiggins Group, a division of Transdigm Inc
Hose assembly Non-metallic
21392
303000-12-0110
4720-01-306-3916
Preece Incorporated AdelWiggins Group, a division of Transdigm Inc
Hose assembly Non-metallic
21392
30300-8M-0240
4720-01-654-5255
Preece Incorporated AdelWiggins Group, a division of Transdigm Inc
Hose assembly Non-metallic
21392
306000-12A-0240
4720-01-485-7582
Preece Incorporated AdelWiggins Group, a division of Transdigm Inc
Hose assembly Non-metallic
21392
306000-8A-0265
4720-01-593-6117
Preece Incorporated AdelWiggins Group, a division of Transdigm Inc
Hose assembly metallic
21392
3060-2
4720-01-026-8666
Preece Incorporated AdelWiggins Group, a division of Transdigm Inc
Hose assembly Non-metallic
21392
3123-5-0153
4720-00-001-9562
Preece Incorporated AdelWiggins Group, a division of Transdigm Inc
Hose assembly Non-metallic
21392
3171-1-0043
4710-00-629-9264
Preece Incorporated AdelWiggins Group, a division of Transdigm Inc
tube assembly guide
21392
3171-2-0028
4710-00-629-9290
Preece Incorporated AdelWiggins Group, a division of Transdigm Inc
tube assembly guide
21392
3267-1-0720
4720-01-008-2959
Preece Incorporated AdelWiggins Group, a division of Transdigm Inc
Hose assembly Non-metallic
21392
3267-1-2400
4720-01-009-7648
Preece Incorporated AdelWiggins Group, a division of Transdigm Inc
Hose assembly Non-metallic
21392
3272-1
4720-00-123-0659
Preece Incorporated AdelWiggins Group, a division of Transdigm Inc
Hose assembly metallic
21392
3916A-4
5935-01-104-3856
Preece Incorporated AdelWiggins Group, a division of Transdigm Inc
backshell electrical connector
21392
403000-8M-0425
4720-01-578-3321
Preece Incorporated AdelWiggins Group, a division of Transdigm Inc
Hose assembly Non-metallic
21392
403000-8M-0462
4720-01-578-3316
Preece Incorporated AdelWiggins Group, a division of Transdigm Inc
Hose assembly Non-metallic
21392
403006-8M-0635
4720-01-516-2373
Preece Incorporated AdelWiggins Group, a division of Transdigm Inc
Hose assembly Non-metallic
21392
403006-8M-0697
4720-01-516-2355
Preece Incorporated AdelWiggins Group, a division of Transdigm Inc
Hose assembly Non-metallic
21392
403006-8M-0762
4720-01-516-2350
Preece Incorporated AdelWiggins Group, a division of Transdigm Inc
Hose assembly Non-metallic
21392
403006-8M-0905
4720-01-516-6165
Preece Incorporated AdelWiggins Group, a division of Transdigm Inc
Hose assembly Non-metallic
21392
403006-8M-0924
4720-01-516-6175
Preece Incorporated AdelWiggins Group, a division of Transdigm Inc
Hose assembly Non-metallic
21392
403007-8M-1290
4720-01-502-7739
Preece Incorporated AdelWiggins Group, a division of Transdigm Inc
Hose assembly Non-metallic
21392
403007-8M-1320
4720-01-502-7741
Preece Incorporated AdelWiggins Group, a division of Transdigm Inc
Hose assembly Non-metallic
21392
403007-8M-1350
4720-01-502-7742
Preece Incorporated AdelWiggins Group, a division of Transdigm Inc
Hose assembly Non-metallic
21392
48262A08T08L
4730-01-464-2138
Preece Incorporated AdelWiggins Group, a division of Transdigm Inc
connector Hose bulkhead
21392
4834-105
4030-01-444-8592
Preece Incorporated AdelWiggins Group, a division of Transdigm Inc
swivel and link assembly
21392
4871F04A04N
4730-01-492-5742
Preece Incorporated AdelWiggins Group, a division of Transdigm Inc
elbow pipe
21392
4871F06A06N
4730-01-492-5743
Preece Incorporated AdelWiggins Group, a division of Transdigm Inc
elbow pipe
21392
4J08TEJ08J-0152
4720-01-173-5842
Preece Incorporated AdelWiggins Group, a division of Transdigm Inc
Hose assembly Non-metallic
21392
51230-302
4730-01-581-9721
Preece Incorporated AdelWiggins Group, a division of Transdigm Inc
coupling half quick disconnect
21392
51230-604
4730-01-572-1835
Preece Incorporated AdelWiggins Group, a division of Transdigm Inc
coupling half quick disconnect
50276
51242-1
4730-01-471-8286
Preece Incorporated AdelWiggins Group, a division of Transdigm Inc
coupling half quick disconnect
21392
51242-2
4730-01-471-8285
Preece Incorporated AdelWiggins Group, a division of Transdigm Inc
coupling half quick disconnect
21392
51243-1
4730-01-463-1722
Preece Incorporated AdelWiggins Group, a division of Transdigm Inc
coupling half quick disconnect
21392
51243-3
4730-01-494-9237
Preece Incorporated AdelWiggins Group, a division of Transdigm Inc
nipple quick disconnect
21392
51243-4
4730-01-520-8832
Preece Incorporated AdelWiggins Group, a division of Transdigm Inc
nipple quick disconnect
21392
51245-1
4730-01-539-9881
Preece Incorporated AdelWiggins Group, a division of Transdigm Inc
coupling half quick disconnect
21392
51245-2
4730-01-520-6082
Preece Incorporated AdelWiggins Group, a division of Transdigm Inc
coupling half quick disconnect
21392
51245-3
4730-01-522-1881
Preece Incorporated AdelWiggins Group, a division of Transdigm Inc
nipple quick disconnect
21392
51245-7
4730-01-520-6387
Preece Incorporated AdelWiggins Group, a division of Transdigm Inc
coupling half quick disconnect
21392
51248-601
4730-01-666-0561
Preece Incorporated AdelWiggins Group, a division of Transdigm Inc
coupling half quick disconnect
21392
51249-3
4730-01-460-2825
Preece Incorporated AdelWiggins Group, a division of Transdigm Inc
coupling half quick disconnect
21392
51249-4
4730-01-480-3103
Preece Incorporated AdelWiggins Group, a division of Transdigm Inc
coupling half quick disconnect
21392
51249-5
4730-01-472-3921
Preece Incorporated AdelWiggins Group, a division of Transdigm Inc
coupling half quick disconnect
21392
51256-1
4730-01-461-9000
Preece Incorporated AdelWiggins Group, a division of Transdigm Inc
coupling half quick disconnect
21392
51256-3
4730-01-489-6180
Preece Incorporated AdelWiggins Group, a division of Transdigm Inc
coupling half quick disconnect
21392
51257-1
4730-01-480-2696
Preece Incorporated AdelWiggins Group, a division of Transdigm Inc
coupling half quick disconnect
21392
51257-3
4730-01-472-4094
Preece Incorporated AdelWiggins Group, a division of Transdigm Inc
coupling half quick disconnect
21392
51260041T04ND
4730-01-501-7340
Preece Incorporated AdelWiggins Group, a division of Transdigm Inc
coupling tube
21392
51260044T04ND
4730-01-507-6505
Preece Incorporated AdelWiggins Group, a division of Transdigm Inc
coupler quick disco
21392
51260101T10ND
4730-01-501-4214
Preece Incorporated AdelWiggins Group, a division of Transdigm Inc
coupler quick disco
21392
51260124T12ND
4730-01-501-7341
Preece Incorporated AdelWiggins Group, a division of Transdigm Inc
coupling tube
21392
51281-2
4730-01-558-3713
Preece Incorporated AdelWiggins Group, a division of Transdigm Inc
coupling half quick disconnect
21392
5129-4
4730-01-303-1139
Preece Incorporated AdelWiggins Group, a division of Transdigm Inc
coupling half quick disconnect
21392
5129704-1
4730-01-465-8925
Preece Incorporated AdelWiggins Group, a division of Transdigm Inc
coupling assembly quick disconne
21392
51344-12-8-F-12-V
4730-01-534-7443
Preece Incorporated AdelWiggins Group, a division of Transdigm Inc
coupling half quick disconnect
21392
51401-1
4730-01-507-3550
Preece Incorporated AdelWiggins Group, a division of Transdigm Inc
coupling half quick disconnect
21392
51449-03
4730-01-561-0577
Preece Incorporated AdelWiggins Group, a division of Transdigm Inc
plug quick disconnect
21392
51671-16-1-A-E-L-C
4730-01-395-5286
Preece Incorporated AdelWiggins Group, a division of Transdigm Inc
coupling half self sealing
21392
51672-16-1-A-E-L-C
4730-01-395-5287
Preece Incorporated AdelWiggins Group, a division of Transdigm Inc
coupling half self sealing
21392
5178106L
4730-01-363-8057
Preece Incorporated AdelWiggins Group, a division of Transdigm Inc
coupling half quick disconnect
21392
51781-06-L-D
5985-01-464-5302
Preece Incorporated AdelWiggins Group, a division of Transdigm Inc
coupling half quick
21392
5178106T
4730-01-363-8058
Preece Incorporated AdelWiggins Group, a division of Transdigm Inc
coupling half quick disconnect
21392
5178108T
4730-01-363-8060
Preece Incorporated AdelWiggins Group, a division of Transdigm Inc
coupling half quick disconnect
21392
5178206L
4730-01-363-8059
Preece Incorporated AdelWiggins Group, a division of Transdigm Inc
coupling half quick disconnect
21392
5178206T
4730-01-438-8778
Preece Incorporated AdelWiggins Group, a division of Transdigm Inc
coupling half quick disconnect
21392
51782-06-T-D
5985-01-464-5298
Preece Incorporated AdelWiggins Group, a division of Transdigm Inc
coupling half quick
21392
5197-1
4730-01-387-8558
Preece Incorporated AdelWiggins Group, a division of Transdigm Inc
coupling assembly quick disconne
21392
5197-3
4730-01-387-8555
Preece Incorporated AdelWiggins Group, a division of Transdigm Inc
coupling assembly quick disconne
21392
5241-PREECE
4720-01-462-6474
Preece Incorporated AdelWiggins Group, a division of Transdigm Inc
Hose assembly metallic
21392
5247-1
4730-01-296-0422
Preece Incorporated AdelWiggins Group, a division of Transdigm Inc
coupling half quick disconnect
21392
5249-1
5340-01-297-1839
Preece Incorporated AdelWiggins Group, a division of Transdigm Inc
cap protective dust and moisture
21392
52617-942
4730-01-573-9096
Preece Incorporated AdelWiggins Group, a division of Transdigm Inc
coupling half quick disconnect
50276
52741-942
4730-01-651-1121
Preece Incorporated AdelWiggins Group, a division of Transdigm Inc
coupling half quick disconnect
21392
52816-941-08
4730-01-651-9640
Preece Incorporated AdelWiggins Group, a division of Transdigm Inc
coupling half quick disconnect
21392
52816-942-08
4730-01-662-4401
Preece Incorporated AdelWiggins Group, a division of Transdigm Inc
coupling half quick disconnect
21392
52818-941-16
4730-01-662-3697
Preece Incorporated AdelWiggins Group, a division of Transdigm Inc
coupling half quick disconnect
21392
52818-942-16
4730-01-652-2954
Preece Incorporated AdelWiggins Group, a division of Transdigm Inc
coupling half quick disconnect
21392
52819-951-16
4730-01-657-6292
Preece Incorporated AdelWiggins Group, a division of Transdigm Inc
coupling half quick disconnect
21392
52827-911-40
4730-01-659-1686
Preece Incorporated AdelWiggins Group, a division of Transdigm Inc
coupling half quick disconnect
21392
52827-912-40
4730-01-652-2904
Preece Incorporated AdelWiggins Group, a division of Transdigm Inc
coupling half quick disconnect
21392
52828-912-40
4730-01-659-1684
Preece Incorporated AdelWiggins Group, a division of Transdigm Inc
nipple quick disconnect
21392
52829 942 08
4730-01-662-4401
Preece Incorporated AdelWiggins Group, a division of Transdigm Inc
coupling half quick disconnect
21392
52829-942-16
4730-01-662-4032
Preece Incorporated AdelWiggins Group, a division of Transdigm Inc
coupling half quick disconnect
21392
52833-941-12
4730-01-652-2615
Preece Incorporated AdelWiggins Group, a division of Transdigm Inc
coupling half quick disconnect
21392
52833-942-12
4730-01-652-2916
Preece Incorporated AdelWiggins Group, a division of Transdigm Inc
coupling half quick disconnect
21392
52884 911 40
4730-01-670-1869
Preece Incorporated AdelWiggins Group, a division of Transdigm Inc
coupling half quick disconnect
21392
52884-912-40
4730-01-670-2895
Preece Incorporated AdelWiggins Group, a division of Transdigm Inc
coupling half quick disconnect
21392
5340-PREECE
4720-01-462-8618
Preece Incorporated AdelWiggins Group, a division of Transdigm Inc
Hose assembly Non-metallic
21392
6012-3
4720-01-095-8460
Preece Incorporated AdelWiggins Group, a division of Transdigm Inc
Hose assembly Non-metallic
21392
60200010D0470
4720-01-376-2696
Preece Incorporated AdelWiggins Group, a division of Transdigm Inc
Hose assembly Non-metallic
21392
60200016D0880
4720-01-376-2697
Preece Incorporated AdelWiggins Group, a division of Transdigm Inc
Hose assembly Non-metallic
21392
6020004A0602
4720-01-376-2695
Preece Incorporated AdelWiggins Group, a division of Transdigm Inc
Hose assembly Non-metallic
21392
6029-1
4720-01-040-9114
Preece Incorporated AdelWiggins Group, a division of Transdigm Inc
Hose assembly Non-metallic
21392
6050-1
4720-01-046-9827
Preece Incorporated AdelWiggins Group, a division of Transdigm Inc
Hose assembly Non-metallic
21392
6050-2
4720-01-048-0634
Preece Incorporated AdelWiggins Group, a division of Transdigm Inc
Hose assembly Non-metallic
21392
6058-1-2400
4720-01-065-1876
Preece Incorporated AdelWiggins Group, a division of Transdigm Inc
Hose assembly Non-metallic
21392
6100-2
4720-01-318-0502
Preece Incorporated AdelWiggins Group, a division of Transdigm Inc
Hose assembly Non-metallic
21392
6279-2630
4720-01-108-5491
Preece Incorporated AdelWiggins Group, a division of Transdigm Inc
Hose assembly Non-metallic
21392
6351-0230
4720-01-200-2818
Preece Incorporated AdelWiggins Group, a division of Transdigm Inc
Hose assembly Non-metallic
21392
6351-0280
4720-01-200-2817
Preece Incorporated AdelWiggins Group, a division of Transdigm Inc
Hose assembly Non-metallic
21392
6351-0340
4720-01-200-2816
Preece Incorporated AdelWiggins Group, a division of Transdigm Inc
Hose assembly Non-metallic
21392
6351-0380
4720-01-200-2810
Preece Incorporated AdelWiggins Group, a division of Transdigm Inc
Hose assembly Non-metallic
21392
6351-0400
4720-01-200-2819
Preece Incorporated AdelWiggins Group, a division of Transdigm Inc
Hose assembly Non-metallic
21392
6351-0560
4720-01-205-1098
Preece Incorporated AdelWiggins Group, a division of Transdigm Inc
Hose assembly Non-metallic
21392
6351-0570
4720-01-200-2820
Preece Incorporated AdelWiggins Group, a division of Transdigm Inc
Hose assembly Non-metallic
21392
6351-0720
4720-01-200-2809
Preece Incorporated AdelWiggins Group, a division of Transdigm Inc
Hose assembly Non-metallic
21392
6353-0370
4720-01-196-8215
Preece Incorporated AdelWiggins Group, a division of Transdigm Inc
Hose assembly Non-metallic
21392
6354-0400
4720-01-214-8041
Preece Incorporated AdelWiggins Group, a division of Transdigm Inc
Hose assembly Non-metallic
21392
6354-0404
4720-01-196-8214
Preece Incorporated AdelWiggins Group, a division of Transdigm Inc
Hose assembly Non-metallic
21392
6355-0270
4720-01-198-4244
Preece Incorporated AdelWiggins Group, a division of Transdigm Inc
Hose assembly Non-metallic
21392
6355-0454
4720-01-209-5662
Preece Incorporated AdelWiggins Group, a division of Transdigm Inc
Hose assembly Non-metallic
21392
6356-0340
4720-01-196-8216
Preece Incorporated AdelWiggins Group, a division of Transdigm Inc
Hose assembly Non-metallic
21392
6370-0111
4720-01-264-7453
Preece Incorporated AdelWiggins Group, a division of Transdigm Inc
Hose assembly Non-metallic
21392
6373 36
4720-01-671-1420
Preece Incorporated AdelWiggins Group, a division of Transdigm Inc
Hose assembly Non-metallic
21392
6373-1
4720-01-443-7106
Preece Incorporated AdelWiggins Group, a division of Transdigm Inc
Hose assembly Non-metallic
21392
6373-10
4720-01-443-4111
Preece Incorporated AdelWiggins Group, a division of Transdigm Inc
Hose assembly Non-metallic
21392
6373-11
4720-01-443-4605
Preece Incorporated AdelWiggins Group, a division of Transdigm Inc
Hose assembly Non-metallic
21392
6373-12
4720-01-445-3234
Preece Incorporated AdelWiggins Group, a division of Transdigm Inc
Hose assembly Non-metallic
21392
6373-13
4720-01-426-5013
Preece Incorporated AdelWiggins Group, a division of Transdigm Inc
Hose assembly Non-metallic
21392
6373-14
4720-01-443-4607
Preece Incorporated AdelWiggins Group, a division of Transdigm Inc
Hose assembly Non-metallic
21392
6373-15
4720-01-460-3052
Preece Incorporated AdelWiggins Group, a division of Transdigm Inc
Hose assembly Non-metallic
21392
6373-16
4720-01-443-4115
Preece Incorporated AdelWiggins Group, a division of Transdigm Inc
Hose assembly Non-metallic
21392
6373-17
4720-01-443-4471
Preece Incorporated AdelWiggins Group, a division of Transdigm Inc
Hose assembly Non-metallic
21392
6373-18
4720-01-443-4119
Preece Incorporated AdelWiggins Group, a division of Transdigm Inc
Hose assembly Non-metallic
21392
6373-19
4720-01-443-7615
Preece Incorporated AdelWiggins Group, a division of Transdigm Inc
Hose assembly Non-metallic
21392
6373-2
4720-01-445-2223
Preece Incorporated AdelWiggins Group, a division of Transdigm Inc
Hose assembly Non-metallic
21392
6373-20
4720-01-411-8414
Preece Incorporated AdelWiggins Group, a division of Transdigm Inc
Hose assembly Non-metallic
21392
6373-21
4720-01-411-8418
Preece Incorporated AdelWiggins Group, a division of Transdigm Inc
Hose assembly Non-metallic
21392
6373-22
4720-01-411-7593
Preece Incorporated AdelWiggins Group, a division of Transdigm Inc
Hose assembly Non-metallic
21392
6373-23
4720-01-443-7707
Preece Incorporated AdelWiggins Group, a division of Transdigm Inc
Hose assembly Non-metallic
21392
6373-24
4720-01-443-7652
Preece Incorporated AdelWiggins Group, a division of Transdigm Inc
Hose assembly Non-metallic
21392
6373-25
4720-01-445-3221
Preece Incorporated AdelWiggins Group, a division of Transdigm Inc
Hose assembly Non-metallic
21392
6373-26
4720-01-445-3213
Preece Incorporated AdelWiggins Group, a division of Transdigm Inc
Hose assembly Non-metallic
21392
6373-28
4720-01-428-6944
Preece Incorporated AdelWiggins Group, a division of Transdigm Inc
Hose assembly Non-metallic
21392
6373-29
4720-01-428-6945
Preece Incorporated AdelWiggins Group, a division of Transdigm Inc
Hose assembly Non-metallic
21392
6373-3
4720-01-461-4469
Preece Incorporated AdelWiggins Group, a division of Transdigm Inc
Hose assembly Non-metallic
21392
6373-30
4720-01-426-7864
Preece Incorporated AdelWiggins Group, a division of Transdigm Inc
Hose assembly Non-metallic
21392
6373-31
4720-01-428-6946
Preece Incorporated AdelWiggins Group, a division of Transdigm Inc
Hose assembly Non-metallic
21392
6373-32
4720-01-426-7866
Preece Incorporated AdelWiggins Group, a division of Transdigm Inc
Hose assembly Non-metallic
21392
6373-33
4720-01-426-7867
Preece Incorporated AdelWiggins Group, a division of Transdigm Inc
Hose assembly Non-metallic
21392
6373-34
4720-01-426-7865
Preece Incorporated AdelWiggins Group, a division of Transdigm Inc
Hose assembly Non-metallic
21392
6373-35
4720-01-426-7868
Preece Incorporated AdelWiggins Group, a division of Transdigm Inc
Hose assembly Non-metallic
21392
6373-37
4720-01-671-1410
Preece Incorporated AdelWiggins Group, a division of Transdigm Inc
Hose assembly Non-metallic
21392
6373-38
4720-01-671-1416
Preece Incorporated AdelWiggins Group, a division of Transdigm Inc
Hose assembly Non-metallic
21392
6373-39
4720-01-670-9750
Preece Incorporated AdelWiggins Group, a division of Transdigm Inc
Hose assembly Non-metallic
21392
6373-4
4720-01-445-2308
Preece Incorporated AdelWiggins Group, a division of Transdigm Inc
Hose assembly Non-metallic
21392
6373-40
4720-01-671-0057
Preece Incorporated AdelWiggins Group, a division of Transdigm Inc
Hose assembly Non-metallic
21392
6373-5
4720-01-443-3903
Preece Incorporated AdelWiggins Group, a division of Transdigm Inc
Hose assembly Non-metallic
21392
6373-6
4720-01-443-3894
Preece Incorporated AdelWiggins Group, a division of Transdigm Inc
Hose assembly Non-metallic
21392
6373-7
4720-01-449-5015
Preece Incorporated AdelWiggins Group, a division of Transdigm Inc
Hose assembly Non-metallic
21392
6373-8
4720-01-445-2297
Preece Incorporated AdelWiggins Group, a division of Transdigm Inc
Hose assembly Non-metallic
21392
6373-9
4720-01-443-4008
Preece Incorporated AdelWiggins Group, a division of Transdigm Inc
Hose assembly Non-metallic
21392
6392812-8
4720-01-459-9700
Preece Incorporated AdelWiggins Group, a division of Transdigm Inc
Hose assembly Non-metallic
21392
6405267 AY55A
4720-01-451-8147
Preece Incorporated AdelWiggins Group, a division of Transdigm Inc
Hose assembly Non-metallic
21392
6405267 AY57A
4720-01-451-8190
Preece Incorporated AdelWiggins Group, a division of Transdigm Inc
Hose assembly Non-metallic
21392
6405267 AY58A
4720-01-451-8238
Preece Incorporated AdelWiggins Group, a division of Transdigm Inc
Hose assembly Non-metallic
21392
6450-0250
4720-01-167-4303
Preece Incorporated AdelWiggins Group, a division of Transdigm Inc
Hose assembly Non-metallic
21392
6468-0105 REV.A
4720-00-757-9649
Preece Incorporated AdelWiggins Group, a division of Transdigm Inc
Hose assembly Non-metallic
21392
6472-0044
4720-01-212-0924
Preece Incorporated AdelWiggins Group, a division of Transdigm Inc
Hose assembly Non-metallic
21392
6472-0080
4720-01-193-8753
Preece Incorporated AdelWiggins Group, a division of Transdigm Inc
Hose assembly Non-metallic
21392
6472-0114
4720-01-230-9454
Preece Incorporated AdelWiggins Group, a division of Transdigm Inc
HoseassemblyNon-metallic
21392
6497 1 0070
4720-01-212-2039
Preece Incorporated AdelWiggins Group, a division of Transdigm Inc
HoseassemblyNon-metallic
21392
6497 1 0120
4720-01-199-7295
Preece Incorporated AdelWiggins Group, a division of Transdigm Inc
Hose assembly Non-metallic
21392
6497-1-0033
4720-01-193-2588
Preece Incorporated AdelWiggins Group, a division of Transdigm Inc
Hose assembly Non-metallic
21392
6497-10044
4720-01-193-2590
Preece Incorporated AdelWiggins Group, a division of Transdigm Inc
Hose assembly Non-metallic
21392
6497-1-0097
4720-01-193-2589
Preece Incorporated AdelWiggins Group, a division of Transdigm Inc
Hose assembly Non-metallic
21392
6497-1-0144
4720-01-199-9989
Preece Incorporated AdelWiggins Group, a division of Transdigm Inc
Hose assembly Non-metallic
21392
6497-1-0160
4720-01-199-7296
Preece Incorporated AdelWiggins Group, a division of Transdigm Inc
Hose assembly Non-metallic
21392
6497-1-0200
4720-01-212-2040
Preece Incorporated AdelWiggins Group, a division of Transdigm Inc
Hose assembly Non-metallic
21392
6504-0112
4720-01-205-0449
Preece Incorporated AdelWiggins Group, a division of Transdigm Inc
Hose assembly Non-metallic
21392
6504-0120
4720-01-205-0448
Preece Incorporated AdelWiggins Group, a division of Transdigm Inc
Hose assembly Non-metallic
21392
6504-0250
4720-01-205-0447
Preece Incorporated AdelWiggins Group, a division of Transdigm Inc
Hose assembly Non-metallic
21392
6505-0210
4720-01-200-2805
Preece Incorporated AdelWiggins Group, a division of Transdigm Inc
Hose assembly Non-metallic
21392
6505-0250
4720-01-200-2806
Preece Incorporated AdelWiggins Group, a division of Transdigm Inc
Hose assembly Non-metallic
21392
6505-0582
4720-01-200-2814
Preece Incorporated AdelWiggins Group, a division of Transdigm Inc
Hose assembly Non-metallic
21392
6511-0190
4720-01-200-2807
Preece Incorporated AdelWiggins Group, a division of Transdigm Inc
Hose assembly Non-metallic
21392
6511-0360
4720-01-200-2815
Preece Incorporated AdelWiggins Group, a division of Transdigm Inc
Hose assembly Non-metallic
21392
6526-0084
4720-01-200-2822
Preece Incorporated AdelWiggins Group, a division of Transdigm Inc
Hose assembly Non-metallic
21392
6527-0140
4720-01-200-2813
Preece Incorporated AdelWiggins Group, a division of Transdigm Inc
Hose assembly Non-metallic
21392
6528-0067
4720-01-196-8218
Preece Incorporated AdelWiggins Group, a division of Transdigm Inc
Hose assembly Non-metallic
21392
6528-0087
4720-01-196-8217
Preece Incorporated AdelWiggins Group, a division of Transdigm Inc
Hose assembly Non-metallic
21392
6529-0310
4720-01-200-2803
Preece Incorporated AdelWiggins Group, a division of Transdigm Inc
Hose assembly Non-metallic
21392
6530-0200
4720-01-200-2804
Preece Incorporated AdelWiggins Group, a division of Transdigm Inc
Hose assembly Non-metallic
21392
6531-0260
4720-01-205-0509
Preece Incorporated AdelWiggins Group, a division of Transdigm Inc
Hose assembly Non-metallic
21392
6532-0220
4720-01-209-5663
Preece Incorporated AdelWiggins Group, a division of Transdigm Inc
Hose assembly Non-metallic
21392
6533-0184
4720-01-207-4795
Preece Incorporated AdelWiggins Group, a division of Transdigm Inc
Hose assembly Non-metallic
21392
6543-06-0090
4720-01-319-2749
Preece Incorporated AdelWiggins Group, a division of Transdigm Inc
Hose assembly Non-metallic
21392
6543-06-0094
4720-01-319-2748
Preece Incorporated AdelWiggins Group, a division of Transdigm Inc
Hose assembly Non-metallic
21392
6543-06-0095
4720-01-319-2750
Preece Incorporated AdelWiggins Group, a division of Transdigm Inc
Hose assembly Non-metallic
21392
6543-06-0097
4720-01-318-9697
Preece Incorporated AdelWiggins Group, a division of Transdigm Inc
Hose assembly Non-metallic
21392
6543-12-0100
4720-01-318-9698
Preece Incorporated AdelWiggins Group, a division of Transdigm Inc
Hose assembly Non-metallic
21392
6543-12-0115
4720-01-322-9141
Preece Incorporated AdelWiggins Group, a division of Transdigm Inc
Hose assembly Non-metallic
21392
6543-12-0132
4720-01-319-2747
Preece Incorporated AdelWiggins Group, a division of Transdigm Inc
Hose assembly Non-metallic
21392
6546-12-0110
4720-01-306-3916
Preece Incorporated AdelWiggins Group, a division of Transdigm Inc
Hose assembly Non-metallic
21392
6553-3
4720-01-374-2974
Preece Incorporated AdelWiggins Group, a division of Transdigm Inc
Hose Non-metallic
21392
6595-10A
4720-00-968-9929
Preece Incorporated AdelWiggins Group, a division of Transdigm Inc
Hose assembly Non-metallic
21392
6595-11A
4720-00-496-9907
Preece Incorporated AdelWiggins Group, a division of Transdigm Inc
Hose assembly Non-metallic
21392
6595-11B232-232
4720-01-481-2092
Preece Incorporated AdelWiggins Group, a division of Transdigm Inc
Hose assembly Non-metallic
21392
6595-15A
4720-00-075-5682
Preece Incorporated AdelWiggins Group, a division of Transdigm Inc
Hose assembly Non-metallic
21392
6595-15B166167
4720-01-420-0853
Preece Incorporated AdelWiggins Group, a division of Transdigm Inc
Hose assembly Non-metallic
21392
6595-15B167183
4720-01-420-0806
Preece Incorporated AdelWiggins Group, a division of Transdigm Inc
Hose assembly Non-metallic
21392
6595-15B183171
4720-01-419-8937
Preece Incorporated AdelWiggins Group, a division of Transdigm Inc
Hose metallic
21392
6595-15B277167
4720-01-420-0810
Preece Incorporated AdelWiggins Group, a division of Transdigm Inc
Hose assembly Non-metallic
21392
6595-16A
4720-00-871-6732
Preece Incorporated AdelWiggins Group, a division of Transdigm Inc
Hose assembly Non-metallic
21392
6595-16B310-443
4720-01-420-0818
Preece Incorporated AdelWiggins Group, a division of Transdigm Inc
Hose assembly Non-metallic
21392
6595-18A
4720-00-556-9815
Preece Incorporated AdelWiggins Group, a division of Transdigm Inc
Hose assembly Non-metallic
21392
6595-18B
4720-01-090-9690
Preece Incorporated AdelWiggins Group, a division of Transdigm Inc
Hose assembly Non-metallic
21392
6595-1A
4720-00-083-6036
Preece Incorporated AdelWiggins Group, a division of Transdigm Inc
Hose assembly Non-metallic
21392
6595-2A
4720-00-420-4568
Preece Incorporated AdelWiggins Group, a division of Transdigm Inc
Hose assembly Non-metallic
21392
6595-3A
4720-00-013-7158
Preece Incorporated AdelWiggins Group, a division of Transdigm Inc
Hose assembly Non-metallic
21392
6595-4A
4720-00-919-4856
Preece Incorporated AdelWiggins Group, a division of Transdigm Inc
Hose assembly Non-metallic
21392
6595-5A
4720-00-016-1792
Preece Incorporated AdelWiggins Group, a division of Transdigm Inc
Hose assembly Non-metallic
21392
6595-5B
4720-01-120-4082
Preece Incorporated AdelWiggins Group, a division of Transdigm Inc
Hose assembly Non-metallic
21392
6595-6A
4720-00-760-3426
Preece Incorporated AdelWiggins Group, a division of Transdigm Inc
Hose assembly Non-metallic
21392
6595-8A
4720-00-126-3491
Preece Incorporated AdelWiggins Group, a division of Transdigm Inc
Hose assembly Non-metallic
21392
6595-8AMOD21
4720-00-126-8439
Preece Incorporated AdelWiggins Group, a division of Transdigm Inc
Hose assembly Non-metallic
21392
6595-9A
4720-01-092-8205
Preece Incorporated AdelWiggins Group, a division of Transdigm Inc
Hose assembly Non-metallic
21392
6595-M13A
4720-01-098-9342
Preece Incorporated AdelWiggins Group, a division of Transdigm Inc
Hose assembly Non-metallic
21392
6595M16B280-280
4720-01-481-2132
Preece Incorporated AdelWiggins Group, a division of Transdigm Inc
Hose assembly Non-metallic
21392
6595M16B310-310
4720-01-481-2086
Preece Incorporated AdelWiggins Group, a division of Transdigm Inc
Hose assembly Non-metallic
21392
6595M3A-174-174
4720-01-346-4692
Preece Incorporated AdelWiggins Group, a division of Transdigm Inc
Hose assembly Non-metallic
21392
6595M3B144-144
4720-01-488-4705
Preece Incorporated AdelWiggins Group, a division of Transdigm Inc
Hose assembly Non-metallic
21392
6595M3B152152
4720-01-420-0813
Preece Incorporated AdelWiggins Group, a division of Transdigm Inc
Hose assembly Non-metallic
21392
6595M5B184184
4720-01-420-0819
Preece Incorporated AdelWiggins Group, a division of Transdigm Inc
Hose assembly Non-metallic
21392
6595M6B214214
4720-01-420-0815
Preece Incorporated AdelWiggins Group, a division of Transdigm Inc
Hose assembly Non-metallic
21392
6595M6B217184
4720-01-420-0816
Preece Incorporated AdelWiggins Group, a division of Transdigm Inc
Hose assembly Non-metallic
21392
6595M6B455215
4720-01-420-0850
Preece Incorporated AdelWiggins Group, a division of Transdigm Inc
Hose assembly Non-metallic
21392
6598-A24-R-D20-0780
4720-01-345-8909
Preece Incorporated AdelWiggins Group, a division of Transdigm Inc
Hose assembly metallic
21392
6600-13A(M
4720-01-539-1882
Preece Incorporated AdelWiggins Group, a division of Transdigm Inc
Hose assembly Non-metallic
21392
6600-13AM
4720-01-539-1882
Preece Incorporated AdelWiggins Group, a division of Transdigm Inc
Hose assembly Non-metallic
21392
6600-15A
4720-00-471-8854
Preece Incorporated AdelWiggins Group, a division of Transdigm Inc
Hose assembly Non-metallic
21392
6600-18A
4720-00-836-2590
Preece Incorporated AdelWiggins Group, a division of Transdigm Inc
Hose assembly Non-metallic
21392
6600-20A
4720-00-104-6852
Preece Incorporated AdelWiggins Group, a division of Transdigm Inc
Hose assembly Non-metallic
21392
6600-2A
4720-00-420-4404
Preece Incorporated AdelWiggins Group, a division of Transdigm Inc
Hose assembly Non-metallic
21392
6600-8A
4720-00-865-6817
Preece Incorporated AdelWiggins Group, a division of Transdigm Inc
Hose assembly Non-metallic
21392
6601-11A
4720-00-082-5827
Preece Incorporated AdelWiggins Group, a division of Transdigm Inc
Hose assembly Non-metallic
21392
6601-15A
4720-01-020-4421
Preece Incorporated AdelWiggins Group, a division of Transdigm Inc
Hose assembly Non-metallic
21392
6601-1A
4720-00-968-7162
Preece Incorporated AdelWiggins Group, a division of Transdigm Inc
Hose assembly Non-metallic
21392
6601-24A
4720-01-020-4423
Preece Incorporated AdelWiggins Group, a division of Transdigm Inc
Hose assembly Non-metallic
21392
6601-3A
4720-00-986-6555
Preece Incorporated AdelWiggins Group, a division of Transdigm Inc
Hose assembly Non-metallic
21392
6601-4A
4720-00-074-9098
Preece Incorporated AdelWiggins Group, a division of Transdigm Inc
Hose assembly Non-metallic
21392
6601-6A
4720-00-986-3802
Preece Incorporated AdelWiggins Group, a division of Transdigm Inc
Hose assembly Non-metallic
21392
6601-7A
4720-00-968-9763
Preece Incorporated AdelWiggins Group, a division of Transdigm Inc
Hose assembly Non-metallic
21392
6601-8A
4720-00-968-9858
Preece Incorporated AdelWiggins Group, a division of Transdigm Inc
Hose assembly Non-metallic
21392
6603-0410
4720-01-234-4615
Preece Incorporated AdelWiggins Group, a division of Transdigm Inc
Hose assembly Non-metallic
21392
6614-0650
4720-01-248-5160
Preece Incorporated AdelWiggins Group, a division of Transdigm Inc
Hose assembly Non-metallic
21392
6628-12-12-0105
4720-01-312-2529
Preece Incorporated AdelWiggins Group, a division of Transdigm Inc
HoseassemblyNon-metallic
21392
6628-12-12-0115
4720-01-312-2529
Preece Incorporated AdelWiggins Group, a division of Transdigm Inc
HoseassemblyNon-metallic
21392
6629-12-12-0110
4720-01-319-2751
Preece Incorporated AdelWiggins Group, a division of Transdigm Inc
Hose assembly Non-metallic
21392
6668-002
4720-01-223-7778
Preece Incorporated AdelWiggins Group, a division of Transdigm Inc
Hose assembly Non-metallic
21392
6668-003
4720-01-223-2512
Preece Incorporated AdelWiggins Group, a division of Transdigm Inc
Hose assembly Non-metallic
21392
6668-004
4720-01-223-7779
Preece Incorporated AdelWiggins Group, a division of Transdigm Inc
Hose assembly Non-metallic
21392
6668-005
4720-01-223-3746
Preece Incorporated AdelWiggins Group, a division of Transdigm Inc
Hose assembly Non-metallic
21392
6668-006
4720-01-223-7780
Preece Incorporated AdelWiggins Group, a division of Transdigm Inc
Hose assembly Non-metallic
21392
6668-007
4720-01-223-2511
Preece Incorporated AdelWiggins Group, a division of Transdigm Inc
Hose assembly Non-metallic
21392
6674-01
4720-01-318-1195
Preece Incorporated AdelWiggins Group, a division of Transdigm Inc
Hose assembly Non-metallic
21392
6674-02
4720-01-311-9324
Preece Incorporated AdelWiggins Group, a division of Transdigm Inc
Hose assembly Non-metallic
21392
6677-01
4720-01-456-8849
Preece Incorporated AdelWiggins Group, a division of Transdigm Inc
Hose assembly metallic
21392
6677-02
4720-01-435-6036
Preece Incorporated AdelWiggins Group, a division of Transdigm Inc
Hose assembly Non-metallic
21392
6677-05
4720-01-485-7588
Preece Incorporated AdelWiggins Group, a division of Transdigm Inc
Hose assembly Non-metallic
21392
6707-20-0167-0167
4720-01-090-1673
Preece Incorporated AdelWiggins Group, a division of Transdigm Inc
Hose assembly Non-metallic
21392
6707-20-0201-0201
4720-01-508-4992
Preece Incorporated AdelWiggins Group, a division of Transdigm Inc
Hose assembly Non-metallic
21392
6737 ITEM 1
4720-01-418-8965
Preece Incorporated AdelWiggins Group, a division of Transdigm Inc
Hose Non-metallic
21392
6751-A12A16L-0240
4720-01-434-5494
Preece Incorporated AdelWiggins Group, a division of Transdigm Inc
Hose assembly Non-metallic
21392
6751-A24A24P-0240
4720-01-420-3315
Preece Incorporated AdelWiggins Group, a division of Transdigm Inc
Hose assembly Non-metallic
21392
6752-D12A16M-0240
4720-01-420-1112
Preece Incorporated AdelWiggins Group, a division of Transdigm Inc
Hose assembly Non-metallic
21392
6752-D24A24P-0240
4720-01-420-2133
Preece Incorporated AdelWiggins Group, a division of Transdigm Inc
Hose assembly Non-metallic
21392
6753-D08A10L-0240
4720-01-420-1113
Preece Incorporated AdelWiggins Group, a division of Transdigm Inc
Hose assembly Non-metallic
21392
6754-A08A06J-0240
4720-01-419-6474
Preece Incorporated AdelWiggins Group, a division of Transdigm Inc
Hose assembly Non-metallic
21392
6755-A12A16M-0240
4720-01-420-1114
Preece Incorporated AdelWiggins Group, a division of Transdigm Inc
Hose assembly Non-metallic
21392
6756-C06A10L-0240
4720-01-420-1111
Preece Incorporated AdelWiggins Group, a division of Transdigm Inc
Hose assembly Non-metallic
21392
6756C08A10L-024
4720-01-420-1115
Preece Incorporated AdelWiggins Group, a division of Transdigm Inc
Hose assembly Non-metallic
21392
6756-C08A10L-0240
4720-01-420-1115
Preece Incorporated AdelWiggins Group, a division of Transdigm Inc
Hose assembly Non-metallic
21392
6835-24
4720-01-088-9386
Preece Incorporated AdelWiggins Group, a division of Transdigm Inc
Hose assembly Non-metallic
21392
6839-D06-J-A06-0220
4720-01-393-4651
Preece Incorporated AdelWiggins Group, a division of Transdigm Inc
Hose assembly Non-metallic
21392
6854-04-04-0124
4720-01-379-5526
Preece Incorporated AdelWiggins Group, a division of Transdigm Inc
Hose assembly Non-metallic
21392
6854-04-04-0140
4720-01-378-6713
Preece Incorporated AdelWiggins Group, a division of Transdigm Inc
Hose assembly Non-metallic
21392
6854-04-05-0140
4720-01-378-8430
Preece Incorporated AdelWiggins Group, a division of Transdigm Inc
Hose assembly Non-metallic
21392
6854-04-05-0184
4720-01-378-5113
Preece Incorporated AdelWiggins Group, a division of Transdigm Inc
Hose assembly Non-metallic
21392
6854-04-05-0200
4720-01-378-1401
Preece Incorporated AdelWiggins Group, a division of Transdigm Inc
Hose assembly Non-metallic
21392
6854-04-05-0230
4720-01-378-6722
Preece Incorporated AdelWiggins Group, a division of Transdigm Inc
Hose assembly Non-metallic
21392
6854-04-05-0264
4720-01-383-5063
Preece Incorporated AdelWiggins Group, a division of Transdigm Inc
Hose assembly Non-metallic
21392
6854-04-05-0280
4720-01-381-9048
Preece Incorporated AdelWiggins Group, a division of Transdigm Inc
Hose assembly Non-metallic
21392
6854-05-05-0124
4720-01-378-2255
Preece Incorporated AdelWiggins Group, a division of Transdigm Inc
Hose assembly Non-metallic
21392
6854-05-05-0134
4720-01-378-5867
Preece Incorporated AdelWiggins Group, a division of Transdigm Inc
Hose assembly Non-metallic
21392
6854-06-06-0124
4720-01-378-5665
Preece Incorporated AdelWiggins Group, a division of Transdigm Inc
Hose assembly Non-metallic
21392
6854-06-06-0184
4720-01-378-9110
Preece Incorporated AdelWiggins Group, a division of Transdigm Inc
Hose assembly Non-metallic
21392
6854-06-06-0190
4720-01-378-3334
Preece Incorporated AdelWiggins Group, a division of Transdigm Inc
Hose assembly Non-metallic
21392
6854-06-06-0200
4720-01-378-4091
Preece Incorporated AdelWiggins Group, a division of Transdigm Inc
Hose assembly Non-metallic
21392
6854-06-06-0264
4720-01-381-9069
Preece Incorporated AdelWiggins Group, a division of Transdigm Inc
Hose assembly Non-metallic
21392
6854-06-06-0280
4720-01-381-8942
Preece Incorporated AdelWiggins Group, a division of Transdigm Inc
Hose assembly Non-metallic
21392
6865-R12A16L-0240
4720-01-434-4115
Preece Incorporated AdelWiggins Group, a division of Transdigm Inc
Hose assembly Non-metallic
21392
6865-R20A24N-0180
4720-01-435-6152
Preece Incorporated AdelWiggins Group, a division of Transdigm Inc
Hose assembly Non-metallic
21392
6865-R20A24N-0240
4720-01-434-4034
Preece Incorporated AdelWiggins Group, a division of Transdigm Inc
Hose assembly Non-metallic
21392
6878-1
4720-01-387-4182
Preece Incorporated AdelWiggins Group, a division of Transdigm Inc
Hose assembly Non-metallic
21392
6878-2
4720-01-413-6037
Preece Incorporated AdelWiggins Group, a division of Transdigm Inc
Hose assembly Non-metallic
21392
6883-1-0146-0146
4720-01-508-4995
Preece Incorporated AdelWiggins Group, a division of Transdigm Inc
Hose assembly Non-metallic
21392
6883-1-0150-0150
4720-01-452-1230
Preece Incorporated AdelWiggins Group, a division of Transdigm Inc
Hose assembly Non-metallic multi
21392
6883-3-0163-0163
4720-01-516-5260
Preece Incorporated AdelWiggins Group, a division of Transdigm Inc
Hose assembly Non-metallic
21392
6884-1-0190-0190
4720-01-447-1426
Preece Incorporated AdelWiggins Group, a division of Transdigm Inc
Hose assembly Non-metallic
21392
6884-1-0190-0190
4720-01-626-8461
Preece Incorporated AdelWiggins Group, a division of Transdigm Inc
Hose assembly metallic
21392
6884-1-0190-0190
4720-01-517-5471
Preece Incorporated AdelWiggins Group, a division of Transdigm Inc
Hose assembly Non-metallic
21392
6905-1
4720-01-392-3807
Preece Incorporated AdelWiggins Group, a division of Transdigm Inc
Hose Non-metallic
21392
6905-4-0120
4720-01-384-1138
Preece Incorporated AdelWiggins Group, a division of Transdigm Inc
Hose assembly Non-metallic
21392
6905-4-0174
4720-01-384-1160
Preece Incorporated AdelWiggins Group, a division of Transdigm Inc
Hose assembly Non-metallic
21392
6905-4-0270
4720-01-384-0985
Preece Incorporated AdelWiggins Group, a division of Transdigm Inc
Hose assembly Non-metallic
21392
69112F121N0270
4720-01-596-2154
Preece Incorporated AdelWiggins Group, a division of Transdigm Inc
Hose assembly Non-metallic
21392
6918-1
4720-01-399-5720
Preece Incorporated AdelWiggins Group, a division of Transdigm Inc
Hose assembly Non-metallic
21392
6918-2
4720-01-399-5718
Preece Incorporated AdelWiggins Group, a division of Transdigm Inc
Hose assembly Non-metallic
21392
6928-1-0161-0161
4720-01-447-1429
Preece Incorporated AdelWiggins Group, a division of Transdigm Inc
Hose assembly Non-metallic
21392
6928-1-0164-0164
4720-01-508-4991
Preece Incorporated AdelWiggins Group, a division of Transdigm Inc
Hose assembly Non-metallic
21392
6928-3-0185-0185
4720-01-520-8156
Preece Incorporated AdelWiggins Group, a division of Transdigm Inc
Hose assembly Non-metallic
21392
6935-1
4720-01-393-8003
Preece Incorporated AdelWiggins Group, a division of Transdigm Inc
Hose assembly Non-metallic
21392
6940-2
4720-01-425-3719
Preece Incorporated AdelWiggins Group, a division of Transdigm Inc
Hose assembly Non-metallic
21392
6940-4
4720-01-425-3719
Preece Incorporated AdelWiggins Group, a division of Transdigm Inc
Hose assembly Non-metallic
21392
6943-1
4720-01-420-1034
Preece Incorporated AdelWiggins Group, a division of Transdigm Inc
Hose assembly Non-metallic
21392
6951-1
4710-01-500-1742
Preece Incorporated AdelWiggins Group, a division of Transdigm Inc
tube assembly metal branched
21392
6951-2
4710-01-500-1751
Preece Incorporated AdelWiggins Group, a division of Transdigm Inc
tube assembly metal branched
21392
6991-1
4720-01-450-1764
Preece Incorporated AdelWiggins Group, a division of Transdigm Inc
Hose assembly Non-metallic
21392
6A04T1A04F0300
4720-00-152-1181
Preece Incorporated AdelWiggins Group, a division of Transdigm Inc
Hose assembly Non-metallic
21392
6A04T1A04F0540
4720-00-450-4255
Preece Incorporated AdelWiggins Group, a division of Transdigm Inc
Hose assembly Non-metallic
21392
6EP6AA0690
4720-01-235-8590
Preece Incorporated AdelWiggins Group, a division of Transdigm Inc
Hose assembly Non-metallic
21392
6EP6AA0800
4720-01-235-8591
Preece Incorporated AdelWiggins Group, a division of Transdigm Inc
Hose assembly Non-metallic
21392
6EP6AC0240
4720-01-233-1694
Preece Incorporated AdelWiggins Group, a division of Transdigm Inc
Hose assembly Non-metallic
21392
7062-919D12
4730-00-833-9800
Preece Incorporated AdelWiggins Group, a division of Transdigm Inc
reducer tube
50276
7062-919D20
4730-00-684-7160
Preece Incorporated AdelWiggins Group, a division of Transdigm Inc
reducer tube
50276
7062-919T19
4730-00-458-9713
Preece Incorporated AdelWiggins Group, a division of Transdigm Inc
reducer tube
50276
7062-919T2
4730-00-810-3857
Preece Incorporated AdelWiggins Group, a division of Transdigm Inc
reducer tube
50276
7062-919T22
4730-00-105-6043
Preece Incorporated AdelWiggins Group, a division of Transdigm Inc
reducertube
50276
7062-919T3
4730-00-481-2422
Preece Incorporated AdelWiggins Group, a division of Transdigm Inc
reducer tube
50276
7062-919T6
4730-00-409-8762
Preece Incorporated AdelWiggins Group, a division of Transdigm Inc
reducer tube
50276
70B0300006C0226
4720-00-796-7790
Preece Incorporated AdelWiggins Group, a division of Transdigm Inc
Hose assembly Non-metallic
21392
715422-1
4720-01-118-1999
Preece Incorporated AdelWiggins Group, a division of Transdigm Inc
Hose assembly Non-metallic
21392
715422-2
4720-01-118-2000
Preece Incorporated AdelWiggins Group, a division of Transdigm Inc
Hose assembly Non-metallic
21392
723-510-9173
4730-01-116-4066
Preece Incorporated AdelWiggins Group, a division of Transdigm Inc
tee tube
50276
723-510-9174
4730-01-116-4067
Preece Incorporated AdelWiggins Group, a division of Transdigm Inc
tee tube
50276
7302-5
5999-01-529-7159
Preece Incorporated AdelWiggins Group, a division of Transdigm Inc
Hose coolant preass
21392
7326092-1
4720-01-459-9756
Preece Incorporated AdelWiggins Group, a division of Transdigm Inc
Hose assembly Non-metallic
21392
7326092-10
4720-01-459-9775
Preece Incorporated AdelWiggins Group, a division of Transdigm Inc
Hose assembly Non-metallic
21392
7326092-24
4720-01-459-9774
Preece Incorporated AdelWiggins Group, a division of Transdigm Inc
Hose assembly Non-metallic
21392
7326092-6
4720-01-459-9763
Preece Incorporated AdelWiggins Group, a division of Transdigm Inc
Hose assembly Non-metallic
21392
7326092-7
4720-01-459-9773
Preece Incorporated AdelWiggins Group, a division of Transdigm Inc
Hose assembly Non-metallic
21392
7326094-1
4720-01-516-5330
Preece Incorporated AdelWiggins Group, a division of Transdigm Inc
Hose assembly Non-metallic
21392
7326094-12
4720-01-463-8174
Preece Incorporated AdelWiggins Group, a division of Transdigm Inc
Hose assembly Non-metallic
21392
7326094-2
4720-01-516-5364
Preece Incorporated AdelWiggins Group, a division of Transdigm Inc
Hose assembly Non-metallic
21392
7326094-3
4720-01-516-5349
Preece Incorporated AdelWiggins Group, a division of Transdigm Inc
Hose assembly Non-metallic
21392
7326094-4
4720-01-516-5357
Preece Incorporated AdelWiggins Group, a division of Transdigm Inc
Hose assembly Non-metallic
21392
7326094-5
4720-01-460-0129
Preece Incorporated AdelWiggins Group, a division of Transdigm Inc
Hose assembly Non-metallic
21392
7326094-6
4720-01-460-0131
Preece Incorporated AdelWiggins Group, a division of Transdigm Inc
Hose assembly Non-metallic
21392
7326094-7
4720-01-460-0133
Preece Incorporated AdelWiggins Group, a division of Transdigm Inc
Hose assembly Non-metallic
21392
7326094-8
4720-01-460-0136
Preece Incorporated AdelWiggins Group, a division of Transdigm Inc
Hose assembly Non-metallic
21392
7326094-9
4720-01-460-0137
Preece Incorporated AdelWiggins Group, a division of Transdigm Inc
Hose assembly Non-metallic
21392
7326096-1
4720-01-460-0120
Preece Incorporated AdelWiggins Group, a division of Transdigm Inc
Hose assembly Non-metallic
21392
7326096-2
4720-01-460-0123
Preece Incorporated AdelWiggins Group, a division of Transdigm Inc
Hose assembly Non-metallic
21392
7326096-3
4720-01-460-0124
Preece Incorporated AdelWiggins Group, a division of Transdigm Inc
Hose assembly Non-metallic
21392
7326103-10
4720-01-463-9257
Preece Incorporated AdelWiggins Group, a division of Transdigm Inc
Hose assembly Non-metallic
21392
7326103-13
4720-01-463-9737
Preece Incorporated AdelWiggins Group, a division of Transdigm Inc
Hose assembly Non-metallic
21392
7326103-14
4720-01-463-9739
Preece Incorporated AdelWiggins Group, a division of Transdigm Inc
Hose assembly Non-metallic
21392
7326103-15
4720-01-463-9740
Preece Incorporated AdelWiggins Group, a division of Transdigm Inc
Hose assembly Non-metallic
21392
7326103-16
4720-01-463-9296
Preece Incorporated AdelWiggins Group, a division of Transdigm Inc
Hose assembly Non-metallic
21392
7326103-17
4720-01-463-9741
Preece Incorporated AdelWiggins Group, a division of Transdigm Inc
Hose assembly Non-metallic
21392
7326103-18
4720-01-463-9742
Preece Incorporated AdelWiggins Group, a division of Transdigm Inc
Hose assembly Non-metallic
21392
7326103-8
4720-01-463-9680
Preece Incorporated AdelWiggins Group, a division of Transdigm Inc
Hose assembly Non-metallic
21392
7326103-9
4720-01-463-9733
Preece Incorporated AdelWiggins Group, a division of Transdigm Inc
Hose assembly Non-metallic
21392
7326104-14
4720-01-463-8468
Preece Incorporated AdelWiggins Group, a division of Transdigm Inc
Hose assembly Non-metallic
21392
7326104-15
4720-01-463-8498
Preece Incorporated AdelWiggins Group, a division of Transdigm Inc
Hose assembly Non-metallic
21392
7326104-7
4720-01-463-8460
Preece Incorporated AdelWiggins Group, a division of Transdigm Inc
Hose assembly Non-metallic
21392
7326104-8
4720-01-463-8451
Preece Incorporated AdelWiggins Group, a division of Transdigm Inc
Hose assembly Non-metallic
21392
7326285-11
4720-01-459-9694
Preece Incorporated AdelWiggins Group, a division of Transdigm Inc
Hose assembly Non-metallic
21392
7326285-13
4720-01-459-9555
Preece Incorporated AdelWiggins Group, a division of Transdigm Inc
Hose assembly Non-metallic
21392
7326285-14
4720-01-459-9702
Preece Incorporated AdelWiggins Group, a division of Transdigm Inc
Hose assembly Non-metallic
21392
7326286-1
4720-01-459-9710
Preece Incorporated AdelWiggins Group, a division of Transdigm Inc
Hose assembly Non-metallic
21392
7326286-2
4720-01-459-9705
Preece Incorporated AdelWiggins Group, a division of Transdigm Inc
Hose assembly Non-metallic
21392
7333-101
1680-01-504-6810
Preece Incorporated AdelWiggins Group, a division of Transdigm Inc
Hose swl to swl air
21392
74050900380090C
4720-01-629-6772
Preece Incorporated AdelWiggins Group, a division of Transdigm Inc
Hose assembly Non-metallic
21392
74050900390000C
4720-01-629-6767
Preece Incorporated AdelWiggins Group, a division of Transdigm Inc
Hose assembly Non-metallic
21392
74050900540090C
4720-01-629-8481
Preece Incorporated AdelWiggins Group, a division of Transdigm Inc
Hose assembly Non-metallic
21392
74150000230SP2C
4720-01-629-6811
Preece Incorporated AdelWiggins Group, a division of Transdigm Inc
Hose assembly Non-metallic
21392
74150000233SP1C
4720-01-629-6785
Preece Incorporated AdelWiggins Group, a division of Transdigm Inc
Hose assembly Non-metallic
21392
74150900180090C
4720-01-629-6812
Preece Incorporated AdelWiggins Group, a division of Transdigm Inc
Hose assembly Non-metallic
21392
74150900220000C
4720-01-629-6787
Preece Incorporated AdelWiggins Group, a division of Transdigm Inc
Hose assembly Non-metallic
21392
74150900260090C
4720-01-629-6788
Preece Incorporated AdelWiggins Group, a division of Transdigm Inc
Hose assembly Non-metallic
21392
74150900350090C
4720-01-629-6810
Preece Incorporated AdelWiggins Group, a division of Transdigm Inc
Hose assembly Non-metallic
21392
74150900380090C
4720-01-629-6772
Preece Incorporated AdelWiggins Group, a division of Transdigm Inc
Hose assembly Non-metallic
21392
74150900390000C
4720-01-629-6767
Preece Incorporated AdelWiggins Group, a division of Transdigm Inc
Hose assembly Non-metallic
21392
74150900540090C
4720-01-629-8481
Preece Incorporated AdelWiggins Group, a division of Transdigm Inc
Hose assembly Non-metallic
21392
74150900700000C
4720-01-629-8489
Preece Incorporated AdelWiggins Group, a division of Transdigm Inc
Hose assembly Non-metallic
21392
74150900780000C
4720-01-629-8496
Preece Incorporated AdelWiggins Group, a division of Transdigm Inc
Hose assembly Non-metallic
21392
7426-0117
4720-01-582-2509
Preece Incorporated AdelWiggins Group, a division of Transdigm Inc
Hose assembly Non-metallic
21392
74-317
4720-01-006-4474
Preece Incorporated AdelWiggins Group, a division of Transdigm Inc
Hose assembly metallic
21392
74-318
4720-01-006-4473
Preece Incorporated AdelWiggins Group, a division of Transdigm Inc
Hose assembly metallic
21392
7A12TFA12J0360
4720-01-434-0458
Preece Incorporated AdelWiggins Group, a division of Transdigm Inc
Hose assembly Non-metallic
21392
7A16TFA12L-0360
4720-01-434-4121
Preece Incorporated AdelWiggins Group, a division of Transdigm Inc
Hose assembly Non-metallic
21392
7B20TFD08L0180
4720-01-434-0437
Preece Incorporated AdelWiggins Group, a division of Transdigm Inc
Hose assembly Non-metallic
21392
7B20TFD12J0180
4720-01-434-0420
Preece Incorporated AdelWiggins Group, a division of Transdigm Inc
Hose assembly Non-metallic
21392
7D12TFD12J0180
4720-01-434-0403
Preece Incorporated AdelWiggins Group, a division of Transdigm Inc
Hose assembly Non-metallic
21392
7M844-3
4820-00-516-1058
Preece Incorporated AdelWiggins Group, a division of Transdigm Inc
valve restrictor check
50276
7M844-4
4820-00-516-1062
Preece Incorporated AdelWiggins Group, a division of Transdigm Inc
valve restrictor check
50276
7M844-5
4820-00-518-1172
Preece Incorporated AdelWiggins Group, a division of Transdigm Inc
valve restrictor check
50276
7M845-2
4820-01-013-1479
Preece Incorporated AdelWiggins Group, a division of Transdigm Inc
valve restrictor check
50276
7M845-4
4820-01-114-5845
Preece Incorporated AdelWiggins Group, a division of Transdigm Inc
valve restrictor check
50276
7M847-1
4730-00-301-9847
Preece Incorporated AdelWiggins Group, a division of Transdigm Inc
restrictor fluid flow
50276
7R08TFA12J0360
4720-01-434-1478
Preece Incorporated AdelWiggins Group, a division of Transdigm Inc
Hose assembly Non-metallic
21392
8654-04-04-0140
4720-01-378-6713
Preece Incorporated AdelWiggins Group, a division of Transdigm Inc
Hose assembly Non-metallic
21392
8654-06-06-0124
4720-01-378-5665
Preece Incorporated AdelWiggins Group, a division of Transdigm Inc
Hose assembly Non-metallic
21392
901-366-053-101
1680-01-504-6810
Preece Incorporated AdelWiggins Group, a division of Transdigm Inc
Hose swl to swl air
21392
903696-1
4720-00-053-1290
Preece Incorporated AdelWiggins Group, a division of Transdigm Inc
Hose assembly Non-metallic
21392
911082TF08E
4730-01-476-3902
Preece Incorporated AdelWiggins Group, a division of Transdigm Inc
coupling half quick disconnect
21392
912062TF06V
4730-01-527-2022
Preece Incorporated AdelWiggins Group, a division of Transdigm Inc
coupling half quick disconnect
21392
912082TF08E
4730-01-476-3908
Preece Incorporated AdelWiggins Group, a division of Transdigm Inc
nipple quick disconnect
21392
922044L04ND
4730-01-501-3903
Preece Incorporated AdelWiggins Group, a division of Transdigm Inc
nipple quick discon
21392
922101L10ND
4730-01-501-3901
Preece Incorporated AdelWiggins Group, a division of Transdigm Inc
nipple quick discon
21392
922124L12ND
4730-01-501-3904
Preece Incorporated AdelWiggins Group, a division of Transdigm Inc
nipple quick discon
21392
941032T04LD
4730-01-553-8595
Preece Incorporated AdelWiggins Group, a division of Transdigm Inc
coupling half quick disconnect
21392
941041T04VD
4730-01-612-0985
Preece Incorporated AdelWiggins Group, a division of Transdigm Inc
coupling half quick disconnect
21392
941042L04LD
4730-01-419-2097
Preece Incorporated AdelWiggins Group, a division of Transdigm Inc
coupling half quick disconnect
21392
941042T04LD
4730-01-553-8594
Preece Incorporated AdelWiggins Group, a division of Transdigm Inc
coupling half quick disconnect
21392
941043T04E
4730-01-321-1146
Preece Incorporated AdelWiggins Group, a division of Transdigm Inc
coupling half quick disconnect
21392
941044T04L
4730-01-321-1430
Preece Incorporated AdelWiggins Group, a division of Transdigm Inc
coupling half quick disconnect
21392
941044T04LD
4730-01-419-2098
Preece Incorporated AdelWiggins Group, a division of Transdigm Inc
coupling half quick disconnect
21392
941061P06N
4730-01-322-6641
Preece Incorporated AdelWiggins Group, a division of Transdigm Inc
coupling half quick disconnect
21392
941061T06N
4730-01-374-7852
Preece Incorporated AdelWiggins Group, a division of Transdigm Inc
coupling half quick disconnect
21392
941061T08VD
4730-01-612-0988
Preece Incorporated AdelWiggins Group, a division of Transdigm Inc
coupling half quick disconnect
21392
941062N12XD
4730-01-533-4395
Preece Incorporated AdelWiggins Group, a division of Transdigm Inc
coupling half quick disconnect
21392
941062T06S
4730-01-544-1937
Preece Incorporated AdelWiggins Group, a division of Transdigm Inc
coupling half quick disconnect
21392
941062T08XD
4730-01-533-3917
Preece Incorporated AdelWiggins Group, a division of Transdigm Inc
coupling half quick disconnect
21392
941065F06V
4730-01-226-7122
Preece Incorporated AdelWiggins Group, a division of Transdigm Inc
coupling half quick disconnect
21392
941065P06XD045B
4730-01-528-9632
Preece Incorporated AdelWiggins Group, a division of Transdigm Inc
coupling half quick disconnect
21392
941065P06XD090B
4730-01-528-9617
Preece Incorporated AdelWiggins Group, a division of Transdigm Inc
coupling half quick disconnect
21392
941065T08Z
4730-01-593-1946
Preece Incorporated AdelWiggins Group, a division of Transdigm Inc
coupling half quick disconnect
21392
941082T08ED
4730-01-363-2303
Preece Incorporated AdelWiggins Group, a division of Transdigm Inc
coupling half quick disconnect
21392
941082T08ED REV E
4730-01-363-2303
Preece Incorporated AdelWiggins Group, a division of Transdigm Inc
coupling half quick disconnect
21392
941082T08L
4730-01-484-6092
Preece Incorporated AdelWiggins Group, a division of Transdigm Inc
coupling half quick disconnect
21392
941082T08S
4730-01-544-1891
Preece Incorporated AdelWiggins Group, a division of Transdigm Inc
coupling half quick disconnect
21392
941085L10L
4730-01-579-7376
Preece Incorporated AdelWiggins Group, a division of Transdigm Inc
coupling half quick disconnect
21392
941085T10L
4730-01-579-7377
Preece Incorporated AdelWiggins Group, a division of Transdigm Inc
coupling half quick disconnect
21392
941124T12L
4730-01-579-0076
Preece Incorporated AdelWiggins Group, a division of Transdigm Inc
coupling half quick disconnect
21392
941124T12LD
4730-01-513-3661
Preece Incorporated AdelWiggins Group, a division of Transdigm Inc
coupling half quick
21392
941-12-8-F-12
4730-01-514-0060
Preece Incorporated AdelWiggins Group, a division of Transdigm Inc
coupling half quick disconnect
21392
941164T16L
4730-01-581-3764
Preece Incorporated AdelWiggins Group, a division of Transdigm Inc
coupling half quick disconnect
21392
94124T12L-F
4730-01-583-6242
Preece Incorporated AdelWiggins Group, a division of Transdigm Inc
coupling half quick disconnect
21392
942041L04SD
4730-01-606-6078
Preece Incorporated AdelWiggins Group, a division of Transdigm Inc
coupling half quick disconnect
21392
942042F04X
4730-01-463-7158
Preece Incorporated AdelWiggins Group, a division of Transdigm Inc
coupling half quick
21392
942042L04LD
4730-01-419-2096
Preece Incorporated AdelWiggins Group, a division of Transdigm Inc
coupling half quick disconnect
21392
942042T04LD
4730-01-621-4783
Preece Incorporated AdelWiggins Group, a division of Transdigm Inc
nipple quick disconnect
21392
942042TF04L
4730-01-524-5377
Preece Incorporated AdelWiggins Group, a division of Transdigm Inc
coupling half quick disconnect
21392
942042TF04L-D
4730-01-619-9826
Preece Incorporated AdelWiggins Group, a division of Transdigm Inc
nipple quick disconnect
21392
942043T04E
4730-01-321-1147
Preece Incorporated AdelWiggins Group, a division of Transdigm Inc
coupling half quick disconnect
21392
942044T04L
4730-01-320-4585
Preece Incorporated AdelWiggins Group, a division of Transdigm Inc
coupling half quick disconnect
21392
942044T04LD
4730-01-419-2095
Preece Incorporated AdelWiggins Group, a division of Transdigm Inc
coupling half quick disconnect
21392
942061L06SD
4730-01-606-6077
Preece Incorporated AdelWiggins Group, a division of Transdigm Inc
coupling half quick disconnect
21392
942062N12XD
4730-01-533-4478
Preece Incorporated AdelWiggins Group, a division of Transdigm Inc
coupling half quick disconnect
21392
942-06-2-T-06-N
4730-01-316-0126
Preece Incorporated AdelWiggins Group, a division of Transdigm Inc
coupling half quick disconnect
21392
942062T06S
4730-01-544-2142
Preece Incorporated AdelWiggins Group, a division of Transdigm Inc
coupling half quick disconnect
21392
942062T06V
4730-01-462-6543
Preece Incorporated AdelWiggins Group, a division of Transdigm Inc
coupling half quick disconnect
21392
942062T08XD
4730-01-533-4424
Preece Incorporated AdelWiggins Group, a division of Transdigm Inc
coupling half quick disconnect
21392
942063P04N
4730-01-315-7637
Preece Incorporated AdelWiggins Group, a division of Transdigm Inc
coupling half quick disconnect
21392
942065G06V
4730-01-226-7116
Preece Incorporated AdelWiggins Group, a division of Transdigm Inc
coupling half quick disconnect
21392
942065L08Z
4730-01-579-7378
Preece Incorporated AdelWiggins Group, a division of Transdigm Inc
coupling half quick disconnect
21392
942065L08ZD
4730-01-579-7378
Preece Incorporated AdelWiggins Group, a division of Transdigm Inc
coupling half quick disconnect
21392
942065T08Z
4730-01-580-5839
Preece Incorporated AdelWiggins Group, a division of Transdigm Inc
nipple quick disconnect
21392
942065T08ZD
4730-01-580-5839
Preece Incorporated AdelWiggins Group, a division of Transdigm Inc
nipple quick disconnect
21392
942065T08Z-D
4730-01-580-6964
Preece Incorporated AdelWiggins Group, a division of Transdigm Inc
coupling half quick disconnect
21392
942065TF06XD045B
4730-01-526-9128
Preece Incorporated AdelWiggins Group, a division of Transdigm Inc
coupling half quick disconnect
21392
942065TF06XD090B
4730-01-526-9122
Preece Incorporated AdelWiggins Group, a division of Transdigm Inc
coupling half quick disconnect
21392
942082T08L
4730-01-484-6090
Preece Incorporated AdelWiggins Group, a division of Transdigm Inc
coupling half quick disconnect
21392
942082T08S
4730-01-544-7608
Preece Incorporated AdelWiggins Group, a division of Transdigm Inc
coupling qk discon
21392
942082TF08ND
4730-01-527-9321
Preece Incorporated AdelWiggins Group, a division of Transdigm Inc
coupling half quick disconnect
21392
942085L10L
4730-01-579-7365
Preece Incorporated AdelWiggins Group, a division of Transdigm Inc
coupling half quick disconnect
21392
942085T10L-C
4730-01-579-7364
Preece Incorporated AdelWiggins Group, a division of Transdigm Inc
coupling half quick disconnect
21392
942124L12LD
4730-01-513-3654
Preece Incorporated AdelWiggins Group, a division of Transdigm Inc
nipplehalf
21392
942124T12L-F
4730-01-579-0068
Preece Incorporated AdelWiggins Group, a division of Transdigm Inc
coupling half quick disconnect
21392
942161T16E
4730-01-354-2729
Preece Incorporated AdelWiggins Group, a division of Transdigm Inc
nipple quick disconnect
21392
942164T16L-C
4730-01-579-4197
Preece Incorporated AdelWiggins Group, a division of Transdigm Inc
coupling half quick disconnect
21392
944062N
5340-01-314-2492
Preece Incorporated AdelWiggins Group, a division of Transdigm Inc
cap protective dust and moisture
21392
951161A16E
4730-01-354-2726
Preece Incorporated AdelWiggins Group, a division of Transdigm Inc
coupling half quick disconnect
21392
9RG003667-111
4720-01-287-4020
Preece Incorporated AdelWiggins Group, a division of Transdigm Inc
Hose assembly Non-metallic
21392
9RG003667-121
4720-01-287-4021
Preece Incorporated AdelWiggins Group, a division of Transdigm Inc
Hose assembly Non-metallic
21392
A1012
4820-01-501-5517
Preece Incorporated AdelWiggins Group, a division of Transdigm Inc
valve check
50276
A1040
4820-01-513-3655
Preece Incorporated AdelWiggins Group, a division of Transdigm Inc
valve
50276
A1060
4820-01-513-3670
Preece Incorporated AdelWiggins Group, a division of Transdigm Inc
valve
50276
A108T1D08J-0507
4720-01-089-2014
Preece Incorporated AdelWiggins Group, a division of Transdigm Inc
Hose assembly Non-metallic
21392
A1260
4820-00-061-5023
Preece Incorporated AdelWiggins Group, a division of Transdigm Inc
valve check
50276
A1280
4820-00-061-5022
Preece Incorporated AdelWiggins Group, a division of Transdigm Inc
valve check
50276
A1340
4820-00-917-5350
Preece Incorporated AdelWiggins Group, a division of Transdigm Inc
valve check
50276
A1360
4820-01-221-2042
Preece Incorporated AdelWiggins Group, a division of Transdigm Inc
valve check
50276
A1380
4820-01-221-2043
Preece Incorporated AdelWiggins Group, a division of Transdigm Inc
valve check
50276
A1530
4820-00-155-5672
Preece Incorporated AdelWiggins Group, a division of Transdigm Inc
valve check
50276
A1560
4820-00-950-4273
Preece Incorporated AdelWiggins Group, a division of Transdigm Inc
valve check
50276
A1570A
4820-01-100-9097
Preece Incorporated AdelWiggins Group, a division of Transdigm Inc
valve check
50276
A1590
4820-00-171-3026
Preece Incorporated AdelWiggins Group, a division of Transdigm Inc
valve check
50276
A2516
4820-01-047-2437
Preece Incorporated AdelWiggins Group, a division of Transdigm Inc
valve hydraulic che
50276
A2540
4820-01-045-0940
Preece Incorporated AdelWiggins Group, a division of Transdigm Inc
valve hydraulic
50276
A2580
4820-01-048-1793
Preece Incorporated AdelWiggins Group, a division of Transdigm Inc
valve
50276
A2600
4820-01-050-9261
Preece Incorporated AdelWiggins Group, a division of Transdigm Inc
valve flow control
50276
A2610
4820-01-050-4126
Preece Incorporated AdelWiggins Group, a division of Transdigm Inc
valve
50276
A2640
4820-01-050-3480
Preece Incorporated AdelWiggins Group, a division of Transdigm Inc
valve hydraulic check
50276
A2680
4820-01-050-9260
Preece Incorporated AdelWiggins Group, a division of Transdigm Inc
valve
50276
A3036-3
4820-00-942-9417
Preece Incorporated AdelWiggins Group, a division of Transdigm Inc
valve check
50276
A3038-3
4820-00-153-8836
Preece Incorporated AdelWiggins Group, a division of Transdigm Inc
valve check
50276
A3038-5
4820-00-772-2891
Preece Incorporated AdelWiggins Group, a division of Transdigm Inc
valve check
50276
A3042
4820-00-545-1753
Preece Incorporated AdelWiggins Group, a division of Transdigm Inc
valve check
50276
A3060
4820-00-394-4075
Preece Incorporated AdelWiggins Group, a division of Transdigm Inc
valve check
50276
A4648
4820-01-055-1962
Preece Incorporated AdelWiggins Group, a division of Transdigm Inc
valve check
21392
A4650
4820-01-050-9256
Preece Incorporated AdelWiggins Group, a division of Transdigm Inc
valve
50276
A5850C0608
4820-01-260-2377
Preece Incorporated AdelWiggins Group, a division of Transdigm Inc
valve check
50276
AC1380
4820-01-434-0692
Preece Incorporated AdelWiggins Group, a division of Transdigm Inc
valve check
50276
B1036-3
4820-00-799-9192
Preece Incorporated AdelWiggins Group, a division of Transdigm Inc
valve restrictor check
50276
B1038-11
4820-00-161-1638
Preece Incorporated AdelWiggins Group, a division of Transdigm Inc
valve restrictor check
50276
B1038-7
4820-00-907-3762
Preece Incorporated AdelWiggins Group, a division of Transdigm Inc
valve restrictor check
50276
B1038-9
4820-00-882-5585
Preece Incorporated AdelWiggins Group, a division of Transdigm Inc
valve restrictor check
50276
B2014-10
4730-01-391-7322
Preece Incorporated AdelWiggins Group, a division of Transdigm Inc
restrictor fluid flow
50276
B3050
4820-00-518-1172
Preece Incorporated AdelWiggins Group, a division of Transdigm Inc
valve restrictor check
50276
B3160
4820-01-181-5766
Preece Incorporated AdelWiggins Group, a division of Transdigm Inc
valve restrictor check
50276
B3426
4820-01-244-5300
Preece Incorporated AdelWiggins Group, a division of Transdigm Inc
valve restrictor check
50276
B3504
4820-01-501-3936
Preece Incorporated AdelWiggins Group, a division of Transdigm Inc
restrictor check va
21392
C7918-4
4730-01-050-3123
Preece Incorporated AdelWiggins Group, a division of Transdigm Inc
fitting swivel
50276
D8010-001
4820-01-283-9605
Preece Incorporated AdelWiggins Group, a division of Transdigm Inc
valve safety relief
50276
D8011-001-3
4820-01-284-2134
Preece Incorporated AdelWiggins Group, a division of Transdigm Inc
disk valve
50276
D8011-001-4
5360-01-284-0689
Preece Incorporated AdelWiggins Group, a division of Transdigm Inc
spring helical compression
50276
D8011-001-5
4820-01-284-2135
Preece Incorporated AdelWiggins Group, a division of Transdigm Inc
disk valve
50276
D8011-001-6
4820-01-283-8410
Preece Incorporated AdelWiggins Group, a division of Transdigm Inc
seat valve
50276
D8011-011-3
4820-01-284-2134
Preece Incorporated AdelWiggins Group, a division of Transdigm Inc
disk valve
50276
D8058
1650-01-323-3584
Preece Incorporated AdelWiggins Group, a division of Transdigm Inc
filter element fluid
50276
D8062
4820-01-140-3781
Preece Incorporated AdelWiggins Group, a division of Transdigm Inc
valve safety relief
50276
DE-1001-1
5306-00-169-8347
Preece Incorporated AdelWiggins Group, a division of Transdigm Inc
bolt machine
50276
DE1028-4
4730-01-116-4066
Preece Incorporated AdelWiggins Group, a division of Transdigm Inc
tee tube
50276
DE1028-5
4730-01-116-4067
Preece Incorporated AdelWiggins Group, a division of Transdigm Inc
tee tube
50276
E1002
4820-01-507-9684
Preece Incorporated AdelWiggins Group, a division of Transdigm Inc
valve check
50276
E1522
4820-01-315-2558
Preece Incorporated AdelWiggins Group, a division of Transdigm Inc
valve check
50276
F1024
4730-01-433-2076
Preece Incorporated AdelWiggins Group, a division of Transdigm Inc
strainer sediment
50276
G2080-003
4820-01-292-8550
Preece Incorporated AdelWiggins Group, a division of Transdigm Inc
valve calibrated flow
50276
G2080-011
4820-01-292-8551
Preece Incorporated AdelWiggins Group, a division of Transdigm Inc
valve calibrated flow
50276
G2080-013
4820-01-293-3025
Preece Incorporated AdelWiggins Group, a division of Transdigm Inc
valve calibrated flow
50276
G2081-003-3
5360-01-292-9444
Preece Incorporated AdelWiggins Group, a division of Transdigm Inc
spring helical compression
50276
G2081-003-4
4820-01-292-8546
Preece Incorporated AdelWiggins Group, a division of Transdigm Inc
seat valve
50276
G2081-003-5
4820-01-294-3280
Preece Incorporated AdelWiggins Group, a division of Transdigm Inc
disk valve
50276
G2081-003-5(SPOOL
4820-01-294-3280
Preece Incorporated AdelWiggins Group, a division of Transdigm Inc
disk valve
21392
G2081-003-5SPOOL
4820-01-294-3280
Preece Incorporated AdelWiggins Group, a division of Transdigm Inc
disk valve
21392
G2081-011-3
4820-01-292-8546
Preece Incorporated AdelWiggins Group, a division of Transdigm Inc
seat valve
50276
G2081-013
4810-01-292-8605
Preece Incorporated AdelWiggins Group, a division of Transdigm Inc
sleeve directional control linea
50276
G2081-013-3
4810-01-292-8605
Preece Incorporated AdelWiggins Group, a division of Transdigm Inc
sleeve directional control linea
50276
G7407W060406
4730-00-165-0943
Preece Incorporated AdelWiggins Group, a division of Transdigm Inc
tee tube
50276
GA3003-39
5305-00-902-4752
Preece Incorporated AdelWiggins Group, a division of Transdigm Inc
screw machine
50276
GA3138-002
5305-00-993-9189
Preece Incorporated AdelWiggins Group, a division of Transdigm Inc
screw machine
50276
GA3138-005
5305-00-943-5449
Preece Incorporated AdelWiggins Group, a division of Transdigm Inc
screw machine
50276
GA3138-006
5305-00-943-5447
Preece Incorporated AdelWiggins Group, a division of Transdigm Inc
screw machine
50276
GA3138-017
5305-00-958-2918
Preece Incorporated AdelWiggins Group, a division of Transdigm Inc
screw machine
50276
GA3138-019
5305-00-066-7327
Preece Incorporated AdelWiggins Group, a division of Transdigm Inc
screw machine
50276
GA3138-031
5305-00-056-9962
Preece Incorporated AdelWiggins Group, a division of Transdigm Inc
screw machine
50276
GA35337-82
5310-00-864-5533
Preece Incorporated AdelWiggins Group, a division of Transdigm Inc
washer lock
50276
GA428-6A286D
5305-00-104-7651
Preece Incorporated AdelWiggins Group, a division of Transdigm Inc
screw cap socket head
50276
GA524-12A286D
5305-00-954-5249
Preece Incorporated AdelWiggins Group, a division of Transdigm Inc
screw cap socket head
50276
GA6014-015
5315-00-078-0336
Preece Incorporated AdelWiggins Group, a division of Transdigm Inc
pin straight headless
50276
GA6014-047
5315-00-904-8913
Preece Incorporated AdelWiggins Group, a division of Transdigm Inc
pin straight headless
50276
GA6014-052
5315-00-971-7729
Preece Incorporated AdelWiggins Group, a division of Transdigm Inc
pin straight headless
50276
GA6014-055
5315-00-904-8914
Preece Incorporated AdelWiggins Group, a division of Transdigm Inc
pin straight headless
50276
GA6014-060
5315-00-970-1145
Preece Incorporated AdelWiggins Group, a division of Transdigm Inc
pin straight headless
50276
GA7062-919C12
4730-00-684-7162
Preece Incorporated AdelWiggins Group, a division of Transdigm Inc
reducer tube
50276
GA7062-919D12
4730-00-833-9800
Preece Incorporated AdelWiggins Group, a division of Transdigm Inc
reducer tube
50276
GA7062-919T2
4730-00-810-3857
Preece Incorporated AdelWiggins Group, a division of Transdigm Inc
reducer tube
50276
GA7062-919T3
4730-00-481-2422
Preece Incorporated AdelWiggins Group, a division of Transdigm Inc
reducer tube
50276
GA7062-919T6
4730-00-409-8762
Preece Incorporated AdelWiggins Group, a division of Transdigm Inc
reducer tube
50276
GA7113-68
4730-00-840-6587
Preece Incorporated AdelWiggins Group, a division of Transdigm Inc
reducer tube
50276
GA7350
4730-00-724-9325
Preece Incorporated AdelWiggins Group, a division of Transdigm Inc
restrictor unit fluid flow
50276
GA7359-5
4810-01-314-9561
Preece Incorporated AdelWiggins Group, a division of Transdigm Inc
valve solenoid
50276
GA7359-6
4810-01-314-9561
Preece Incorporated AdelWiggins Group, a division of Transdigm Inc
valve solenoid
50276
GA7403W081008
4730-00-413-0365
Preece Incorporated AdelWiggins Group, a division of Transdigm Inc
tee tube to boss
50276
GA7403W100810
4730-00-489-3644
Preece Incorporated AdelWiggins Group, a division of Transdigm Inc
tee tube to boss
50276
GA7407F060606
4730-00-163-4639
Preece Incorporated AdelWiggins Group, a division of Transdigm Inc
tee tube
50276
GA7407F161616
4730-00-163-4640
Preece Incorporated AdelWiggins Group, a division of Transdigm Inc
tee tube
50276
GA7407W060406
4730-00-165-0943
Preece Incorporated AdelWiggins Group, a division of Transdigm Inc
tee tube
50276
GA7407W060606
4730-00-182-9033
Preece Incorporated AdelWiggins Group, a division of Transdigm Inc
tee tube
50276
GA7407W080806
4730-00-182-9037
Preece Incorporated AdelWiggins Group, a division of Transdigm Inc
tee tube
50276
GA7407W101010
4730-00-402-8798
Preece Incorporated AdelWiggins Group, a division of Transdigm Inc
teetube
50276
GA7407W161606
4730-00-182-8989
Preece Incorporated AdelWiggins Group, a division of Transdigm Inc
tee tube
50276
GA7407W202020
4730-00-444-3953
Preece Incorporated AdelWiggins Group, a division of Transdigm Inc
tee tube
50276
GA7418F040606
4730-00-161-7603
Preece Incorporated AdelWiggins Group, a division of Transdigm Inc
tee tube to boss
50276
GA7418W060606
4730-00-403-0060
Preece Incorporated AdelWiggins Group, a division of Transdigm Inc
tee tube to boss
50276
GA7424F0404
4730-00-150-5183
Preece Incorporated AdelWiggins Group, a division of Transdigm Inc
elbow tube to boss
50276
GA7424F0606
4730-00-491-9569
Preece Incorporated AdelWiggins Group, a division of Transdigm Inc
elbow tube to boss
50276
GA7424F16-16
4730-00-403-3290
Preece Incorporated AdelWiggins Group, a division of Transdigm Inc
elbow tube to boss
50276
GA7424W1010
4730-00-204-2231
Preece Incorporated AdelWiggins Group, a division of Transdigm Inc
elbow tube to boss
50276
GA7428W0606
4730-00-153-7214
Preece Incorporated AdelWiggins Group, a division of Transdigm Inc
elbow tube
50276
GA7432F06
4730-00-402-8786
Preece Incorporated AdelWiggins Group, a division of Transdigm Inc
nut tube coupling
50276
GA7432F12
4730-00-409-6272
Preece Incorporated AdelWiggins Group, a division of Transdigm Inc
nut tube coupling
50276
GA7440F161620
4730-00-182-9007
Preece Incorporated AdelWiggins Group, a division of Transdigm Inc
tee tube to boss
50276
GA7441F060604
4730-00-182-9039
Preece Incorporated AdelWiggins Group, a division of Transdigm Inc
teetube
50276
GA7441F080608
4730-00-182-9043
Preece Incorporated AdelWiggins Group, a division of Transdigm Inc
tee tube
50276
GA7442F201616
4730-00-182-9040
Preece Incorporated AdelWiggins Group, a division of Transdigm Inc
tee tube to boss
50276
GA7443F0404
4730-00-613-8557
Preece Incorporated AdelWiggins Group, a division of Transdigm Inc
nipple tube
50276
GA7443F0806
4730-00-278-8392
Preece Incorporated AdelWiggins Group, a division of Transdigm Inc
reducer boss
50276
GA7443W2016
4730-00-165-9657
Preece Incorporated AdelWiggins Group, a division of Transdigm Inc
reducer tube
50276
GA7444F0404
4730-00-541-1750
Preece Incorporated AdelWiggins Group, a division of Transdigm Inc
adapter straight tube to boss
50276
GA7444W0606
4730-00-161-7599
Preece Incorporated AdelWiggins Group, a division of Transdigm Inc
nipple tube
50276
GA7444W0608
4730-00-432-8514
Preece Incorporated AdelWiggins Group, a division of Transdigm Inc
reducer tube
50276
GA7448W060606
4730-00-489-1218
Preece Incorporated AdelWiggins Group, a division of Transdigm Inc
tee tube to boss
50276
GA744F1010
4730-00-239-1146
Preece Incorporated AdelWiggins Group, a division of Transdigm Inc
nipple tube
50276
GA7450F06-075
4730-00-182-8973
Preece Incorporated AdelWiggins Group, a division of Transdigm Inc
nipple tube
50276
GA7450W12-230
4730-01-091-7586
Preece Incorporated AdelWiggins Group, a division of Transdigm Inc
restrictor fluid flow
50276
GA7460
4820-01-216-2234
Preece Incorporated AdelWiggins Group, a division of Transdigm Inc
valve check
50276
GA7460
4820-01-204-4494
Preece Incorporated AdelWiggins Group, a division of Transdigm Inc
valve check
50276
GA7460
4820-01-502-9821
Preece Incorporated AdelWiggins Group, a division of Transdigm Inc
valve check
50276
GA7460C1216
4820-01-216-2234
Preece Incorporated AdelWiggins Group, a division of Transdigm Inc
valve check
50276
GA7460D0406
4820-01-204-4494
Preece Incorporated AdelWiggins Group, a division of Transdigm Inc
valve check
50276
GA7460D1012
4820-01-502-9821
Preece Incorporated AdelWiggins Group, a division of Transdigm Inc
valve check
21392
GA7461
4820-01-502-9839
Preece Incorporated AdelWiggins Group, a division of Transdigm Inc
valve check
50276
GA7461C 0608
4820-00-167-3628
Preece Incorporated AdelWiggins Group, a division of Transdigm Inc
valve check
50276
GA7461C0810
4820-01-502-9839
Preece Incorporated AdelWiggins Group, a division of Transdigm Inc
valve check
21392
GA7461C1012
4820-01-604-7048
Preece Incorporated AdelWiggins Group, a division of Transdigm Inc
valve check
50276
GA7461D0608
4820-00-167-3627
Preece Incorporated AdelWiggins Group, a division of Transdigm Inc
valve check
50276
GA7461D1012
4820-00-166-4204
Preece Incorporated AdelWiggins Group, a division of Transdigm Inc
valve check
50276
GA7706
4820-00-780-9840
Preece Incorporated AdelWiggins Group, a division of Transdigm Inc
valve check
50276
GA832-6A286D
5305-00-239-8376
Preece Incorporated AdelWiggins Group, a division of Transdigm Inc
screw cap socket head
50276
GA832-8A286
5305-00-150-3526
Preece Incorporated AdelWiggins Group, a division of Transdigm Inc
screw cap socket head
50276
GA832-8A286D
5305-00-939-9021
Preece Incorporated AdelWiggins Group, a division of Transdigm Inc
screw cap socket head
50276
GAS1352C4-16
5305-00-943-5939
Preece Incorporated AdelWiggins Group, a division of Transdigm Inc
screw cap socket head
50276
GAS537C1032-22
5305-00-907-7033
Preece Incorporated AdelWiggins Group, a division of Transdigm Inc
screw
50276
GAS537C256-18
5305-00-945-7387
Preece Incorporated AdelWiggins Group, a division of Transdigm Inc
screw machine
50276
GAS537C356-6
5305-00-942-7311
Preece Incorporated AdelWiggins Group, a division of Transdigm Inc
screw machine
50276
GAS537C832-51
5305-00-415-2180
Preece Incorporated AdelWiggins Group, a division of Transdigm Inc
screw machine
50276
GAS608C356-2
5305-00-907-7032
Preece Incorporated AdelWiggins Group, a division of Transdigm Inc
screw cap socket head
50276
GAS608C4-30
5305-00-912-5237
Preece Incorporated AdelWiggins Group, a division of Transdigm Inc
screw cap socket head
50276
GAS608C440-7
5305-00-812-8399
Preece Incorporated AdelWiggins Group, a division of Transdigm Inc
screw cap socket head
50276
GAS608C8-30
5305-00-907-7030
Preece Incorporated AdelWiggins Group, a division of Transdigm Inc
screw
50276
GMS1000-093
5325-01-292-7223
Preece Incorporated AdelWiggins Group, a division of Transdigm Inc
insert screw thread
50276
IEP10AA0200
4720-01-050-1338
Preece Incorporated AdelWiggins Group, a division of Transdigm Inc
Hose assembly Non-metallic
21392
IEP12AA0520
4720-01-050-1339
Preece Incorporated AdelWiggins Group, a division of Transdigm Inc
Hose assembly Non-metallic
21392
IEP6AA0440
4720-01-050-1335
Preece Incorporated AdelWiggins Group, a division of Transdigm Inc
Hose assembly Non-metallic
21392
IEP6AA0480
4720-01-050-1336
Preece Incorporated AdelWiggins Group, a division of Transdigm Inc
Hose assembly Non-metallic
21392
IEP6AC0210
4720-01-040-2609
Preece Incorporated AdelWiggins Group, a division of Transdigm Inc
Hose assembly Non-metallic
21392
IEP6AC0230
4720-01-047-9971
Preece Incorporated AdelWiggins Group, a division of Transdigm Inc
Hose assembly Non-metallic
21392
IEP6AC0240
4720-01-048-4418
Preece Incorporated AdelWiggins Group, a division of Transdigm Inc
Hose assembly Non-metallic
21392
IEP6AC0260
4720-01-040-2610
Preece Incorporated AdelWiggins Group, a division of Transdigm Inc
Hose assembly Non-metallic
21392
IEP6AC0300
4720-01-050-1334
Preece Incorporated AdelWiggins Group, a division of Transdigm Inc
Hose assembly Non-metallic
21392
JCM-14169-003
4720-01-337-7191
Preece Incorporated AdelWiggins Group, a division of Transdigm Inc
Hose assembly Non-metallic
21392
JCM-14170-003
4720-01-339-2169
Preece Incorporated AdelWiggins Group, a division of Transdigm Inc
Hose assembly Non-metallic
21392
JCM-14171-002
4730-01-339-9748
Preece Incorporated AdelWiggins Group, a division of Transdigm Inc
coupling half quick disconnect
21392
JN0522-02
JN0522-02
Preece Incorporated AdelWiggins Group, Nipple, Quick Disconnect
Nipple, Quick Disconnect
Nipple, Quick Disconnect
KF22-900
1650-01-121-4726
Preece Incorporated AdelWiggins Group, a division of Transdigm Inc
parts kit swivel
50276
M1046-101
4820-01-513-3574
Preece Incorporated AdelWiggins Group, a division of Transdigm Inc
valve thermally act
21392
R302-011
5330-01-166-2636
Preece Incorporated AdelWiggins Group, a division of Transdigm Inc
retainer packing
50276
R302-013
5330-01-212-4648
Preece Incorporated AdelWiggins Group, a division of Transdigm Inc
retainer packing
50276
S1034
4730-01-208-4801
Preece Incorporated AdelWiggins Group, a division of Transdigm Inc
elbow Hose
50276
S1034-6
4730-01-208-4801
Preece Incorporated AdelWiggins Group, a division of Transdigm Inc
elbow Hose
50276
S1038
4730-01-051-2809
Preece Incorporated AdelWiggins Group, a division of Transdigm Inc
swivel joint hydraulic
50276
S1040
4730-01-044-0074
Preece Incorporated AdelWiggins Group, a division of Transdigm Inc
swing joint tube
50276
S1042
4730-01-050-3123
Preece Incorporated AdelWiggins Group, a division of Transdigm Inc
fitting swivel
50276
T222006002
4720-01-294-4820
Preece Incorporated AdelWiggins Group, a division of Transdigm Inc
Hose assembly Non-metallic
21392
T222006006
4720-01-293-5095
Preece Incorporated AdelWiggins Group, a division of Transdigm Inc
Hose assembly Non-metallic
21392
T222006008
4720-01-293-9310
Preece Incorporated AdelWiggins Group, a division of Transdigm Inc
Hose assembly Non-metallic
21392
T5112803A04N
4730-01-485-9932
Preece Incorporated AdelWiggins Group, a division of Transdigm Inc
coupling half quick disconnect
21392
T5112803F04N
4730-01-485-9929
Preece Incorporated AdelWiggins Group, a division of Transdigm Inc
coupling half quick disconnect
21392
T5112804F04N
4730-01-534-9518
Preece Incorporated AdelWiggins Group, a division of Transdigm Inc
coupling half quick disconnect
21392
T5112804F06N045
4730-01-485-9930
Preece Incorporated AdelWiggins Group, a division of Transdigm Inc
coupling half quick disconnect
21392
T5112804F06N090
4730-01-486-0684
Preece Incorporated AdelWiggins Group, a division of Transdigm Inc
coupling half quick disconnect
21392
T5112804F06N135
4730-01-485-9931
Preece Incorporated AdelWiggins Group, a division of Transdigm Inc
coupling half quick disconnect
21392
T5112804F08N180
4730-01-485-9933
Preece Incorporated AdelWiggins Group, a division of Transdigm Inc
coupling half quick disconnect
21392
T5112806F06N045
4730-01-497-2638
Preece Incorporated AdelWiggins Group, a division of Transdigm Inc
coupling half quick disconnect
21392
T5112806F06N090
4730-01-497-2641
Preece Incorporated AdelWiggins Group, a division of Transdigm Inc
coupling half quick disconnect
21392
T5112806F06N135
4730-01-497-2639
Preece Incorporated AdelWiggins Group, a division of Transdigm Inc
coupling half quick disconnect
21392
T5112808F08N180
4730-01-497-2640
Preece Incorporated AdelWiggins Group, a division of Transdigm Inc
coupling half quick disconnect
21392
T5112903A04N
4730-01-485-9997
Preece Incorporated AdelWiggins Group, a division of Transdigm Inc
nipple quick disconnect
21392
T5112903F04N
4730-01-486-0001
Preece Incorporated AdelWiggins Group, a division of Transdigm Inc
nipple quick disconnect
21392
T5112903G04N
4730-01-486-0950
Preece Incorporated AdelWiggins Group, a division of Transdigm Inc
nipple quick disconnect
21392
T5112904G04N
4730-01-497-2643
Preece Incorporated AdelWiggins Group, a division of Transdigm Inc
nipple quick disconnect
21392
T5112904G06N045
4730-01-486-0002
Preece Incorporated AdelWiggins Group, a division of Transdigm Inc
nipple quick disconnect
21392
T5112904G06N090
4730-01-486-3126
Preece Incorporated AdelWiggins Group, a division of Transdigm Inc
nipple quick disconnect
21392
T5112904G06N135
4730-01-486-0003
Preece Incorporated AdelWiggins Group, a division of Transdigm Inc
nipple quick disconnect
21392
T5112904G08N180
4730-01-486-0004
Preece Incorporated AdelWiggins Group, a division of Transdigm Inc
nipple quick disconnect
21392
T5112906G06N045
4730-01-497-2642
Preece Incorporated AdelWiggins Group, a division of Transdigm Inc
nipple quick disconnect
21392
T5112906G06N090
4730-01-497-2644
Preece Incorporated AdelWiggins Group, a division of Transdigm Inc
nipple quick disconnect
21392
T5112906G06N135
4730-01-497-2645
Preece Incorporated AdelWiggins Group, a division of Transdigm Inc
nipple quick disconnect
21392
T5112908G08N180
4730-01-497-2647
Preece Incorporated AdelWiggins Group, a division of Transdigm Inc
nipple quick disconnect
21392
Some Preece quick disconnect have specific use for Space and have a manufacturing in line with qualified space product for flight model, Ground model also available on request (MOQ may apply, please also take in account leadtime are specific LLi) please also note that you need 2pcs QD (half male and hald female) End-use is needed to see if licence is applicable or not, it may fall under HTS Code: 8481.80.3090 Taps, Cocks And Valves, Others, Of Steel, Hand Operated
| | |
| --- | --- |
| Preece quick disconect PN | Customer PN |
| 52805-1-08-004 | 528051081ET08CK1NA |
| 52805-1-08-006 | 528051081ET08CK2NA |
| 52805-1-12-038 | 528051121ET16CK2NA |
| 52805-3-08-020 | 528053081ET08CK1NA |
| 52805-3-08-024 | 528053081ET08CK2NA |
| 52805-3-12-033 | 528053121ET16CK2NA |
| G52805-1-08-004 | G528051081ET08CK1NA |
| G52805-1-08-006 | G528051081ET08CK2NA |
| G52805-1-12-038 | G528051121ET16CK2NA |
| G52805-3-08-020 | G528053081ET08CK1NA |
| G52805-3-08-024 | G528053081ET08CK2NA |
| G52805-3-12-033 | G528053121ET16CK2NA |