Updated : November 2021 => Focus on PREECE INCORPORATED Lake Forest, California : Effective June 2, 2017, Preece incorporated was acquired by AdelWiggins Group, a division of Transdigm Inc. Preece has moved all of its operations from 26845 Vista Terrace Lake Forest, CA 92630 to AdelWiggins Group, which is located at 5000 Triggs St. Commerce, CA 90022.
Page mise à jour : 6 Mars 2023

Preece Adel Wiggins Aerospace swivel joint with high-pressure fittings. provide torsional rotation in dynamic fluid or pneumatic aerospace / aerospace an fittings / aerospace couplings / high pressure swivel fittings / aerospace fittings / aircraft hydraulic fittings

Raccords orientables à articulations multiples – Raccords Tournants aeronautique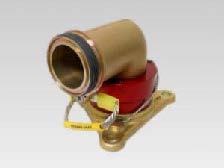 Applicable Standards :
MIL-DTL-5513D, DETAIL SPECIFICATION: JOINTS, HYDRAULIC SWIVEL
MIL-J-5513C, MILITARY SPECIFICATION: JOINTS, HYDRAULIC SWIVEL (16-APR-1976)
AS4395: Fitting End, Flared, Tube Connection, Design Standard
AS33514 FITTING END, STANDARD DIMENSIONS FOR FLARELESS TUBE CONNECTION AND GASKET SEAL
AS4207 FITTING END, EXTERNAL THREAD, BEAM SEAL, DESIGN STANDARD
NAS1760, Revision 7, March 31, 2022 – FITTING END, FLARELESS ACORN, STANDARD DIMENSIONS
MS24386G, MILITARY STANDARD: FITTING END, BULKHEAD FLARED TUBE CONNECTION PRECISION TYPE, STANDARD DIMENSIONS (16 JAN 1989) [SUPERSEDED BY SAE-AS4396]
AS4396 FITTING END – BULKHEAD, FLARED TUBE CONNECTION, DESIGN STANDARD
Fluides
Skydrol 500B-4 Fire Resistant Aviation Hydraulic Fluid aviation phosphate esters
aircraft hydraulic fluids like Royco, Eastman, Castrol, 5606, 83282
Hydraulic Fluid MIL-H-5606A Mineral oil based hydraulic fluid for use with brake and hydraulic systems with synthetic rubber seals.
MIL-PRF-83282D red-colored synthetic, fire-resistant hydraulic fluid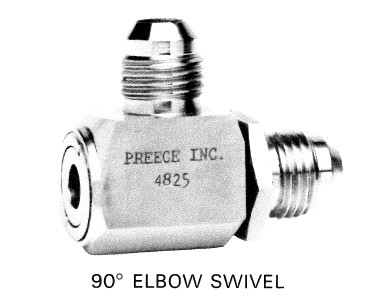 Allow Rotation of the Hose/Coupling, which prevents twisting, kinking and excessive
bending. This extends Hose life, make for more efficient system plumbing, reduce
the length of hose required between connections, eliminate the need for bent tubing
to accommodate angled connections, and often can be connected directly to the
hose line without adapters. Because swivel joints move, they can compensate for
hose length changes when the system pressurizes and absorb hydraulic surges and
shocks in a line.
Orkal provides exclusive sales representation, stocking and logistics services for Preece AdelWiggins Group products. This combination of product technical expertise, stocking and logistics expertise provides the ultimate supply chain benefits for the Customer and Manufacturer. Orkal has been providing technical sales, stocking and logistic support for over 20 years for AdelWiggins Group. We have the closest link to the factory from every standpoint, including quality, sales, engineering and product support. No-one is better qualified than Orkal to provide marketing, technical services , stocking and logistics support.
Preece Adel Wiggins Aerospace swivel joint with high-pressure fittings. provide torsional rotation in dynamic fluid or pneumatic aerospace
Contact us to have Price and Leadtime. / CONTACTEZ NOUS (OEM Tier 1 Tier 2 Tube shop…)